SYDNEY – 21 June, 2022: Grease Monkey Games, an Australian-based multi-platform video game studio and a subsidiary of Animoca Brands, is pleased to announce that their Torque Drift 2 whitelist is now open until 7 July 7pm PST. Join the whitelist and secure your opportunity to mint Premium Keychains, available exclusively to the whitelisted members, as well as a free airdrop of Standard Keychain.

Torque Drift 2 is the newest addition to Grease Monkey Games' popular motorsport game portfolio and the REVV Motorsport ecosystem. The game represents the next generation of motorsports products leveraging blockchain technology, where fully functional and playable NFTs are a core feature used to deliver true digital ownership of game assets to players, including play-and-earn and the trading of items on secondary marketplaces. Official Formula DRIFT NFTs will be available in Torque Drift 2 for players to own, trade, and earn.
Users who join the whitelist will be airdropped a free, limited-edition Standard Keychain NFT on 14 July (PST).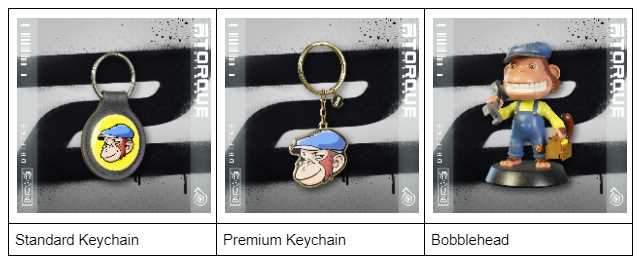 Keychains in Torque Drift 2 serve as record holders of a player's in-game achievements, similar to the trophy system in some other games. The Standard Keychain NFT will have the logo of the smirking Grease Monkey, a design that will be made available only during this whitelist period. This utility NFT can hold 8 ornaments (up to 16 with purchasable in-game keychain extender) in-game and will be shown on player's profile customisation options. Keychains can also be spotted in a player's garage, on their race suit belt during matchmaking, and in their car's ignition during driving.
Standard Keychain NFT owners have the opportunity to mint Premium Keychain NFTs that will unlock further benefits, including a complimentary bobblehead NFT to be airdropped in August, unique in-game player titles, paint jobs and decals, access to member-only sales and an exclusive VIP discord channel.
While Standard Keychain NFT will be airdropped to all whitelisted members, Premium Keychain NFTs are limited in quantity, making this the most exclusive Torque Drift 2 NFT asset to date. The exact quantity and pricing of the Premium Keychain will be announced at a later stage, along with other exciting news for Torque Drift 2.
To join the whitelist, please visit torquemotorsport.io. The whitelist will close on 7 July 2022 at 7 p.m. (PST).
Grease Monkey Games is preparing continuous releases of interactive experiences for Torque Drift 2, including a tuning garage coming in Q3 2022, with the full release of the game expected in 2024.