EVENT DETAILS
Date: Saturday, April 15, 2023
Location: Streets of Long Beach, Long Beach, CA
Event: 2023 Formula DRIFT Super Drift Challenge, Day 2
COMPETITORS
Joao Barion (Brazil) – Corvette Barbarius
Trenton Beechum (USA) – Nexen Tire / Clonex Racing BMW
Rome Charpentier (USA) – Garagistic / Vitour Tire E36 BMW
Diego Higa (Brazil) – Toyota GT86
Dean Kearney (Ireland) – HyperNFT Dodge Viper
Sam Maghmoumi (Lebanon) – 412 Motorsport BMW E82
Kyle Mohan (USA) – Mazda MX5 Rotary
Forrest Wang (USA) – Yellowspeed / NRG Nissan
RESULTS
1.  Dean Kearney (Ireland) – HyperNFT Dodge Viper
2.  Rome Charpentier (USA) – Garagistic / Vitour Tire E36 BMW
3.  Diego Higa (Brazil) – Toyota GT86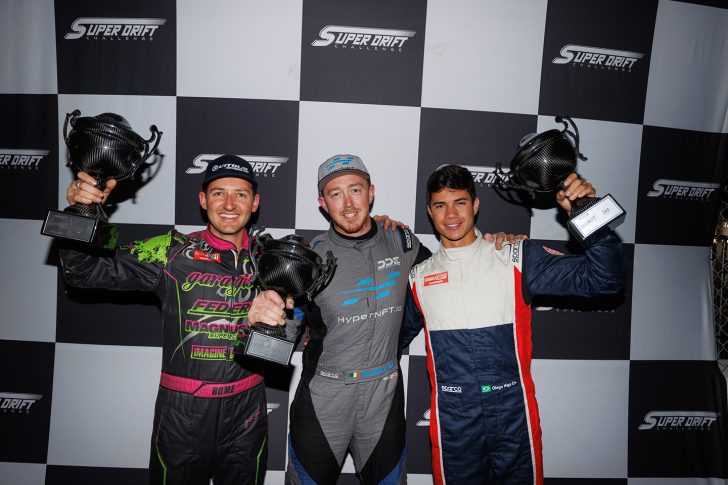 COMPETITION NOTES
Driver match-ups for tandem competition runs were decided by a random draw in the absence of traditional Formula DRIFT qualifying runs
The majority of drivers used their Formula DRIFT PRO competition machines for Super Drift, developing up to 1000hp in most cases, with Dean Kearney's Viper producing 1350hp
Dean Kearney received a bye run in the Top 8 after Kyle Mohan was unable to get his Mazda MX5 to the start line. Kearney then had a good battle with Trenton Beechum in the Top 4 to reach the Final
In the Final, Kearney span to a halt on his second run. However, the livestream replay showed Rome Charpentier had over-rotated in Outside Zone 3 and appeared to use the handbrake to regain control. With nowhere to go, Kearney's spin was adjudged Charpentier's fault and Kearney climbed to the top step of the podium
Dean's last podium in Super Drift was a second place in 2019 in a Final he lost to Forrest Wang
Rome Charpentier was hoping to build on yesterday's Super Drift win after beating Forrest Wang in an epic Top 8 heat before eliminating Diego Higa in another close match in the Top 4. However, his small mistake against Kearney cost him the winner's trophy
Higa was awarded third place when a technical problem for his run-off competitor, Trenton Beechum, meant he was unable to complete the second run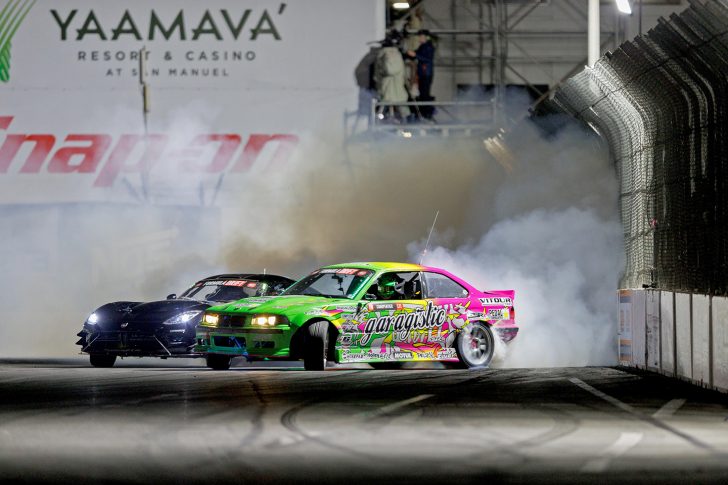 ABOUT SUPER DRIFT
Super Drift Challenge is an invitational event. Competitors are drawn from the Formula DRIFT series but do not score points towards the FD PRO or PROSPEC Championships.
Formula DRIFT has a long history with the Grand Prix of Long Beach, dating back to 2005 when their series was invited to conduct an annual full course drift demo for GP fans.
In 2012, Super Drift was introduced, offering a more traditional Formula DRIFT competition elimination format for spectators to enjoy.
In 2006, Formula DRIFT worked with Grand Prix of Long Beach to establish its own stand-alone Championship round using Turns 9 to 11. Round 1 of the Formula DRIFT PRO Championship season takes place the weekend before the Grand Prix. Streets of Long Beach has since become a mainstay of the annual eight-round Formula DRIFT calendar.
Drifting is judged on a driver's line through the course, angle in the turns, and style throughout the run. The chase car's proximity to the lead car is also a crucial factor.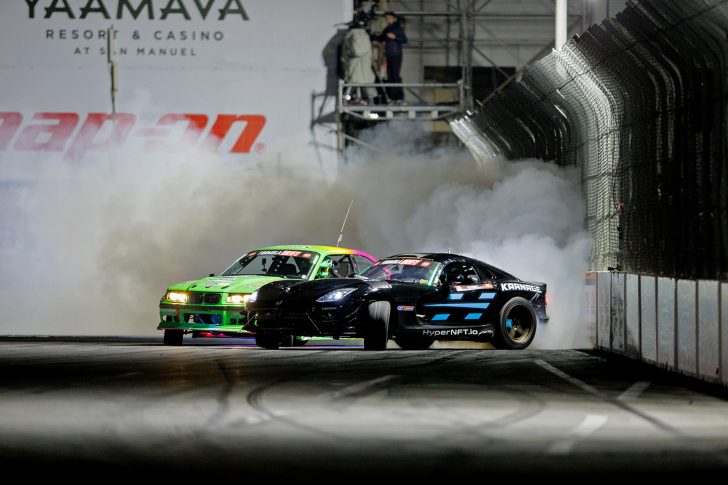 FORMULA DRIFT NEXT ROUND
Drift Atlanta presented by Bud Light at Michelin Raceway Road Atlanta will host the Formula DRIFT PRO Championship Round 2: TYPE S Road to the Championship presented by AutoZone on May 11-13. Please visit formulad.com for the competition schedule, ticket information, driver profiles, special content, and the event livestream.