Original article on Drift Enthusiast Magazine
Kyle Mohan's Pro Drift Team And Renewable Lubricants Are Already Blazing The Trail.
Behind The Scenes With Kyle Mohan Racing (KMR).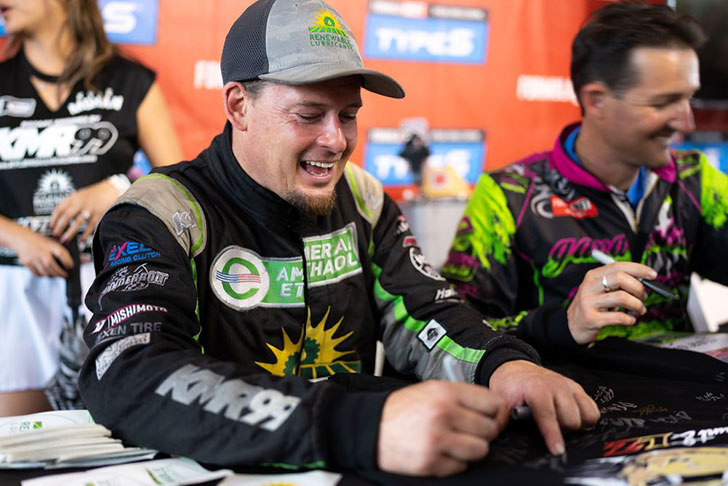 Photo courtesy of KMR.
It's always a pleasure to sit down with a professional drift circuit driver and our visit with Formula DRIFT PRO driver Kyle Mohan did not disappoint!
In fact, we were lucky enough to have the pleasure of talking with Mohan, and executives Benjamin Garmier and Chet McBroom from Renewable Lubricants, one Mohan's main racing sponsors.
Renewable Lubricants is a formidable U.S. supplier of sustainable bio-based lubricant products, and McBroom and his teenage son Evan, are also cherished members of the KMR racing crew family.
Introducing Bio-Friendly Oil.
"We were green before green was cool," reminisced Garmier, Renewable Lubricants' senior vice president. "Nobody knew what that was back then, but they knew they needed high-performance oils not derived from crude oil."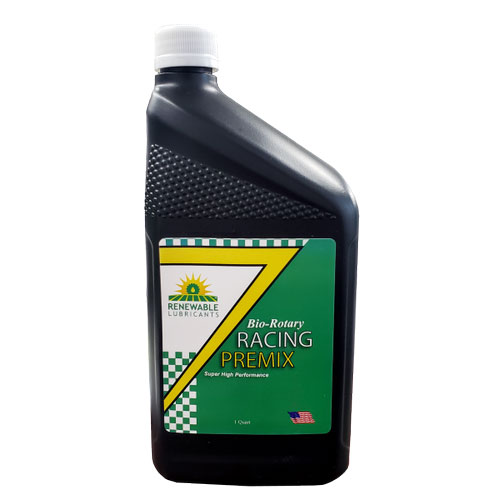 Photo courtesy of Renewable Lubricants
Garmier's father was a tinkerer and inventor, and his parents ran a small additive petroleum business out of their family garage in the early 1990s. They created an early 'gee whiz' vegetable-based oil and were eventually given a grant by the U.S. Department of Defense and Agriculture.
"It was a time when the government was concerned about keeping petroleum local," Garmier stated. "They wanted military replacement products and that's how we designed the products initially."
The Garmier's also took their products into the motorsport racing world, supporting the Mark Thomas Racing Funny Car Hall-Of-Fame team. "We met at an event and he needed some help with lubrication," Garmier explained, indicating lubrication engineering was still kind of a 'black art' at the time. "We ended up making his engine oil out of corn and he ran it during all seven championships."
According to Garmier, Renewable Lubricants then moved their focus more toward the commercial marketplace. "We started getting requests from construction customers for environmentally-friendly lubricants for job sites," he recalled, also noting there weren't many options available from the major oil companies.
Today, the company is still involved with commercial and government enterprises, but they've recently pivoted back to their racing roots, producing what McBroom likes to call, "the Black Rifle Coffee of lubricants."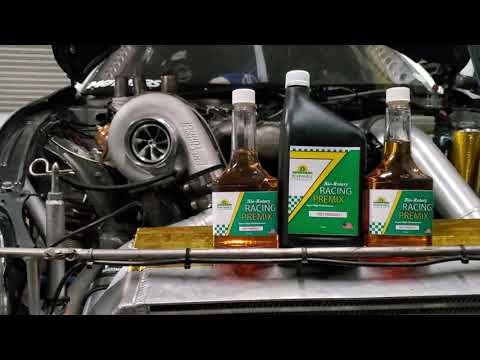 Photo courtesy of Renewable Lubricants.
A Match Made In Heaven … For The Earth.
Garmier and McBroom connected with PRO Formula DRIFT and Mazda RX-8 driver Kyle Mohan, and a partnership between Renewable Lubricants and Kyle Mohan Racing (KMR) emerged.
Together, they developed a premium quality, fully-synthetic premixed lubricant for high performance rotary engines, which KMR has been using in its rotary-engine powered race cars since.
Mohan (whose wife is an environmental scientist that runs a conservation, habitat, restoration, and land preserve in Palos Verdes, Calif.) has always been conscious of his carbon footprint and preserving the environment.
"I really love plants, animals and the ocean, and for years, I've run ethanol and have had a valued ethanol partner," Mohan explained. "I think people don't think about it, but when we're racing, we are leaving a footprint. If there are ways to benefit on the performance side, and also do our part in any way to benefit the earth, it's a cool thing."
Photo courtesy of KMR.
The Southern Cali Homeboy.
Mohan, is a southern Calif. native that grew up biking, surfing, and skating, and was generally into all types of outdoor extreme sports. His path to Formula DRIFT was a bit unconventional, and it goes back to Mohan's childhood.
"As a youth, my father would take me to the Long Beach Grand Prix every year, along with drag races, boat races, and more," Mohan shared. "From a very early age, I was very interested in the automotive industry, car culture, and hotrods."
Also an avid creative, the youthful Mohan was into art, music, and nature. Additionally, he had an entrepreneurial streak that ran deep. Before graduating high school, he played in a successful band, ran a slot car business, and also started up a skateboarding business with a friend.
Later, he toyed with the idea of pursuing an art career and studying automotive design. However, when he realized it was "very computer formatted", he knew it wasn't going to be the right fit for his hands-on nature. "I wanted to 'create' the cars and a goal of mine was not to have a desk job," explained Mohan.
He decided to instead, focus on his automotive passions, and the rest is literally history. "I started working on automotive stuff and ended up working my way into a job at Mazdatrix when I was 18 or 19," Mohan remembered. "I'd sweep the shop floors, and put parts away, and they'd let me work on the race cars."
Then, the family of a workplace friend at Mazdatrix took in a Japanese exchange student, and Mohan was introduced to drifting.
"As soon as I saw it, in my mind I already started wondering 'how do I get into this?' because I knew it was going to be big over here," Mohan noted. He remembered thinking, "Everything that's big in Japan gets big in the United States!"
At that point, the world shifted for Mohan, and instead of building a road car, he and his friend decided to start building drift cars, "That was the beginning of my Mazda drifting escapades," he said with a friendly wink.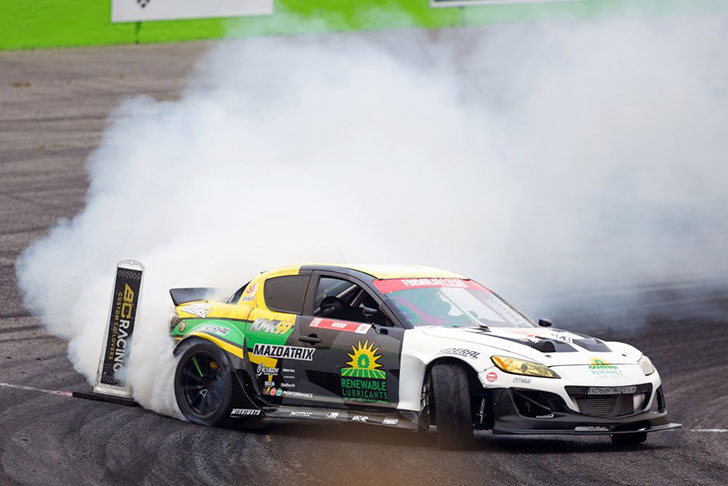 Photo courtesy of KMR.
Brap, Brap, Brapping, Mohan Style.
This led Mohan to many semi-professional events, and after getting awarded his Formula DRIFT license, he drove for JIC North America for a short time. Then, the world-of-Mohan pivoted again.
"In 2007, when the economy crashed, the Japanese companies that were investing in the U.S. market left," Mohan recalled. "I ended up forming my own team in my driveway and in the back shops of Mazdatrix with my dad and my friends."
KMR first built Mohan an RX-7 drift machine, followed by the team's first RX-8 in 2009. According to the pro driver, the team also added a three rotor MX-5 to its mix of drifting machines in 2015.
Mohan naturally gravitates toward organic fuels and lubricants for all his race cars and this led him to the relationship with Renewable Lubricants. It also earned KMR the distinction of being a 'green race team'.
"For right now, we're the greenest car in the series, because we're running environmentally friendly lubricants throughout the car, front to back – differential, oil, engine, and transmission," Mohan stated. "As far as I know, in professional motorsports, there's very few teams in the world that can claim that. It wasn't something we set out to do, but I'm proud of it."
Mohan feels drifting green offers multiple benefits to all concerned. "I'm marketing my rotary, and I'm trying to help – at least with the partners I have – bring some type of positive influence to the series," he stated. "Our cars and consumers benefit as well, because ethanol and bio-based lubricants are great products, and more people should be trying them in their high-performance vehicles."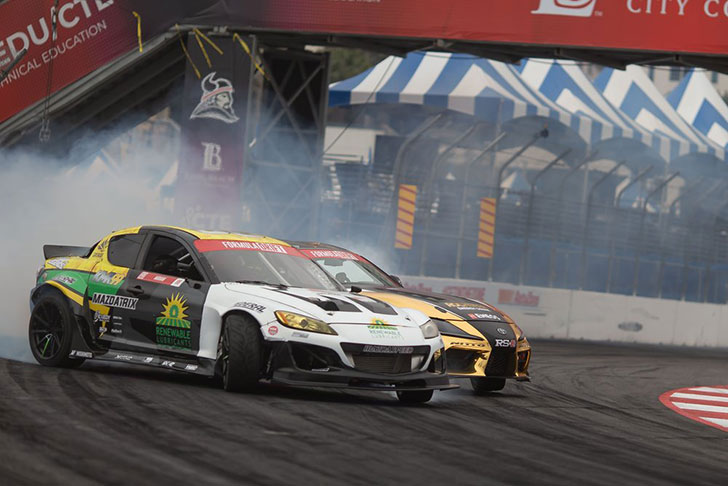 Photo courtesy of KMR.
Killing It At The Drift Track Without Killing The Planet.
As far as performance, Mohan told us there's no sacrifice in using bio-based racing products, and in a lot of cases, it even costs less or equal to non-environmentally-friendly options.
"We were actually able to get benefits by using greener performance products and Renewable Lubricants' bio-based performance synthetics are comparable to any other performance high-end oil," Mohan said. "Once you're tuned for ethanol, it also yields higher horsepower goals, with better engine protection, and a cleaner burning scenario with a fuel that costs way less."
As far as the future of green racing, Mohan thinks the world isn't going to go backward. "We're going to go cleaner, whether we're forced to or not, and I think everybody out there would prefer to have the best products available," he stated.
"It's a really interesting topic to 'think' performance, the automotive industry, and then mix in 'environmentally friendly'," Mohan continued. "I've been thinking about it for years."
"I think our opportunity to utilize products and companies that have greener footprints is at an all-time high, and the opportunity is there more so now, than it has ever been before," the PRO drifting veteran concluded.