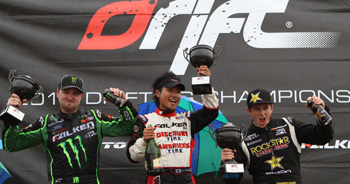 Long Beach, Calif. – June 6, 2010 – Formula DRIFT continued the season at Wall Stadium for Round 3: The Gauntlet. Daijiro Yoshihara wins his second event in a row, while Vaughn Gittin, Jr. podiums for the third straight event and retains the Pro Championship leader
Wall Stadium hosted Round 3: The Gauntlet to a packed venue. Fans were treated to clear weather and an action-packed weekend. The level of competition has increased forcing multiple "One More Time" calls from the judges, which gave the fans more head to head action.
"The seventh season continues to be unbelievably strong with the depth and skill of the driver pool," said Jim Liaw, president and co-founder of Formula DRIFT. "We want to give it up the drivers for putting on another great show and to the fans for their continued support."
Round 3: The Gauntlet showcased exciting tandem action that had Daijiro Yoshihara in the Discount Tire / Falken Tire Nissan S13 take his second consecutive victory by beating out Falken teammate Vaughn Gittin, Jr. in the Monster Energy / Falken Tires Ford Mustang in the Finals for the second time in a row. Gittin has now found the podium in each of the 3 events this season with a victory at Round 1 and two second place finishes at Round 2 and Round 3 and retains the Pro Championship points lead. The consolation round placed last season's winner Darren McNamara in the Falken Tires Saturn Sky against 2-time Formula DRIFT champion Tanner Foust in the Rockstar Energy Drink Scion tC with Foust edging it out for third place at the event.
"I've got my mojo back!," said Daijiro Yoshihara, winner of Round 3: The Gauntlet. "This feels incredible to win back to back events and I could not have done it without the help of my team and sponsors."
The season continues on July 9-10, 2010 for Round 4: Throwdown at Evergreen Speedway. Tickets are available on-line. For more information and details visit the Formula DRIFT website at: www.formuladrift.com