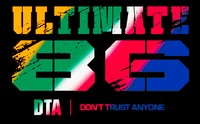 For Immediate Release
Los Angeles Ca. March 8th 2013 – Ultimate 86 Motorsports released details of the team sponsors for the 2013 Formula Drift championship.   Title sponsorship of the team's turbocharged V8 Scion FR-S will be shared by DTA Posse and Transformers Decepticons.
"I am extremely happy to announce DTA and Decepticons as our title sponsors,"  said Otto Graven, team owner and driver.  "I am looking forward to having a great 2013 season in Formula Drift with a new car, new sponsors and a great crew.  I think that Formula D is the toughest championship in the world with the best drivers, cars and teams in the sport.  The 2013 championship will be epic and we intend to be in the fight at every round."
DTA president Yo Esbensen commented on the new partnership.  "Rogue Status and DTA have had a long history in motorsports and drifting in particular.  We are stepping our game up in 2013 and the collaboration with Hasbro was a perfect fit for the Ultimate 86 drift team.  Its an honor to collaborate with a brand that you remember as a child.
When Hasbro approached us to collaborate because of our involvement in motorsports, it made sense to combine two of our passions into a real life figure eight.
DTA x Transformers – Don't Trust Autobots!"
In addition to the DTA and Decepticons title sponsorship Ultimate 86 Motorsports also announced that they have secured support from Falken Tire, Garrett Turbochargers, KW Suspension, Turbosmart, Cusco, Injector Dynamics, Wilwood Brakes, Motegi Wheels, Cortex Precision Technologies, Mishimoto and WORLD Motorsports.
"We have a dream-team of sponsors for the Ultimate 86 Motorsports Scion FR-S,"  Otto Graven said.  "Without the support of these great companies it simply would not be possible to compete at the top level in Formula Drift.  Our sponsors have elevated our racing program to the next level.  I can't wait to get behind the wheel and put on a show for the fans."
Construction of the car is underway at WORLD Motorsports in Torrance Ca. with Scott "Chip" Stanwood heading up the design and fabrication.  Scott and crew-chief Mike Warfield are working at full throttle to complete the final stages of construction. Scott Stanwood will also be the teams spotter in Formula Drift competition.
The team will debut the new car on April 12th-13th at the first round of the Formula D championship in Long Beach Ca.
For more information contact:  [email protected]