Ford Mustang Teams Gear Up for Final Fight of 2014 Formula DRIFT Season at Irwindale Speedway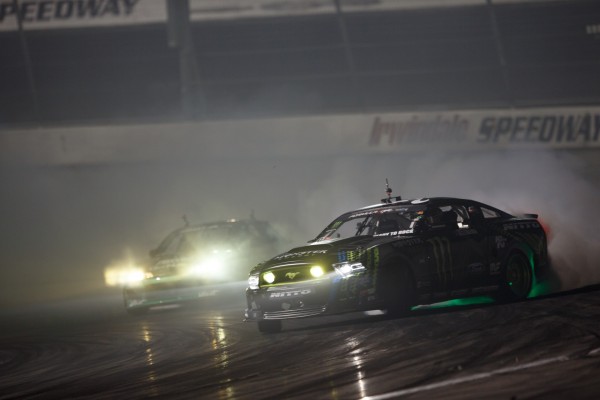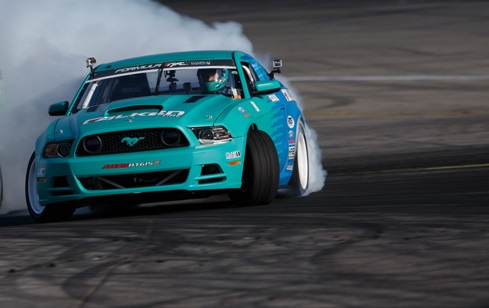 • Ford Mustang driver Vaughn Gittin Jr. battling for podium finish in Formula DRIFT series
• Along with former champion Gittin Jr., past winner and Mustang driver Justin Pawlak also competing
• Ford will announce "Drift with Ford" sweepstakes winner of custom EcoBoost®-powered Fiesta ST after final 2014 Formula DRIFT event
Long Beach, Calif. – September 23, 2014 – With only one race left in the 2014 Formula DRIFT season, Ford Motor Company heads to Irwindale Speedway in California looking to finish strong in the season finale there. Vaughn Gittin Jr., in third place, and Justin Pawlak, in seventh, will compete in customized Ford Mustangs Oct. 10-11, in the final fight of the seven-event series.
"I'm really pumped to be heading into the final fight of 2014 at Irwindale Speedway," said Gittin Jr. "While we are no longer battling for the championship, we plan to hold our ground and take third overall in the series."
"This is something I'm really excited about, given the challenges we had to overcome this season," he added. "The progression of drifting never ceases to amaze me, and this year has been insane with regard to the level of competition. Our Ford Mustang RTR has been fully up to the task and continues to be a performance bar-setting machine, round after round. We are looking forward to fighting hard and ending the season on the top step."
Ford has supported drivers in Formula DRIFT since 2005, when the sport triggered a successful Ford Racing Performance Parts engine development program for a supercharged 4.6-liter V8 crate engine.
"This has been a thrilling season for Ford in Formula DRIFT," said Mickey Matus, Ford Racing marketing communications manager. "Vaughn and Justin consistently had Ford in the hunt for the manufacturer's cup and driver's championship. We're confident they will continue to show that Ford and Mustang are serious competitors, not only in the world of Formula DRIFT, but in all form of motorsports."
Amidst the excitement of North America's foremost professional drifting championship, Ford continues to give fans the opportunity to enter to win an EcoBoost®-powered Fiesta ST. The sweepstakes winner will receive personal drift lessons from Gittin Jr., a trip to Ford's ST Octane Academy, and a visit to Hoonigan Racing headquarters. The last day to enter the contest online is Oct. 13 at 11:59 a.m. EDT. Anyone can enter at www.formuladrift.com while watching the hot action over the final weekend.
"Fiesta ST featuring the 1.6-liter EcoBoost engine is a huge hit, especially among Formula DRIFT fans," said Steve Ling, Ford car marketing manager. "We collaborated with Formula DRIFT to create an innovative way to give one to a lucky fan. We added lowering springs, an exhaust from Ford Racing Performance Parts, Rotiform 18-inch VCE wheels, Nitto NT555 ultra-high-performance tires and a K&N intake system to make this a true, one-of-one car. We had this hot new Fiesta ST at the season opener in Long Beach and will have it at the upcoming finale in California."
The first official drifting series in North America, Formula DRIFT has taken competitive motorsports to the extreme – attracting enthusiasts from all walks of life. Highly skilled drivers maneuver high-powered cars into controlled slides at high speeds through a marked course. Judged on speed, execution and style rather than fastest time, drifting is a crowd pleaser that's often compared to the freestyle nature of skateboarding and motocross.
The 2014 Formula DRIFT season will continue with Round 7: Final Fight at Irwindale Speedway on October 10-11. For more information visit: www.formuladrift.com and find Formula DRIFT on Instagram @formulad, Facebook www.facebook.com/formuladrift and Twitter @FormulaDrift.