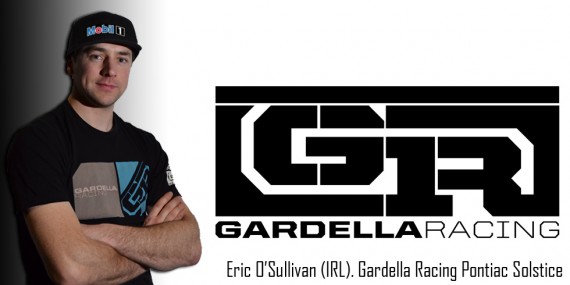 GARDELLA RACING ANNOUNCES EXPANDED 2011 PROGRAM WITH ADDITION OF '09 FORMULA DRIFT ROOKIE OF THE YEAR ERIC O'SULLIVAN
HOWELL, NJ (February 1, 2011) – Gardella Racing announced today that Irish drifting champion and 2009 Formula DRIFT Rookie of the Year, Eric O'Sullivan, will join the Howell NJ-based team for 2011.
In an exciting move, O'Sullivan will re-locate to Gardella Racing's headquarters to become heavily involved as both a team driver and Gardella Racing Ambassador in the Formula DRIFT and grass roots programs.
Campaigning the Gardella Racing Pontiac Solstice in the 2011 Formula DRIFT Pro Drift Championship, O'Sullivan will shortly begin an extensive testing program alongside Gardella Racing driver Ryan Tuerck. In addition to the 2011 Formula DRIFT Program, O'Sullivan will also enjoy a broader role as Gardella Racing Ambassador reaching out to the grass roots communities of North American Drifting.
Speaking on the announcement of the move Eric O'Sullivan stated, "This move is a dream come true for me. I am extremely proud and honored to have been given this opportunity with Gardella Racing. Gardella Racing is a team that I have always admired for their professionalism and commitment to top-level motorsports and I am delighted to now be part of the team. Our plans for 2011 are extremely exciting and I cannot wait to get behind the wheel of the GR Pontiac Solstice and begin preparations."
Following an extensive search for a 2nd driver via the team's social media network , Gardella Racing Team Owner Gary Gardella also commented on the deal , "There are a lot of talented drivers out there, many of whom applied to be part of the Gardella Racing team.  Eric was the one driver who stood out and met all of the qualities I was looking for in a driver," continued Gardella. "He is a champion driver,  a great spokesman for partners, and a team player, expecting to be more involved in the team in addition to driving."
More details on the extent of O'Sullivan's role with Gardella Racing will be   revealed over the coming months when the Irish driver will travel to New Jersey and be officially introduced to his 2011 team and vehicle.