Formula DRIFT PRO 2 Series Round 1 at Homestead-Miami Speedway Results;
Geoff Stoneback Takes the Victory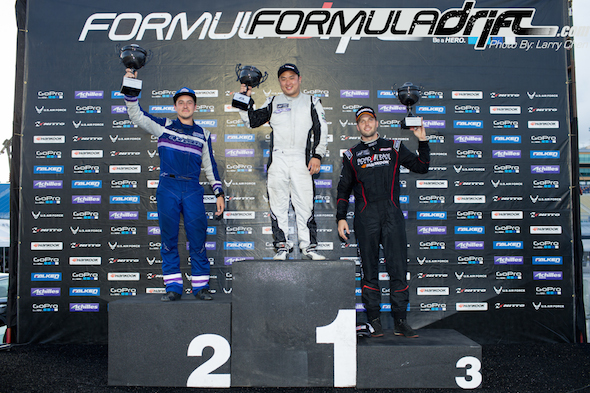 Long Beach, Calif. – May 31, 2014 – Formula DRIFT PRO 2 Series kicked off the season at Homestead-Miami Speedway with the first of four rounds of competition. Geoff Stoneback in the Geoff Stoneback Racing Nissan S14 takes the first victory in PRO 2 history.
The inaugural PRO 2 competition held at Homestead-Miami Speedway marked the start of the PRO 2 season. PRO 2 Series was introduced as an intermediary series between the Formula DRIFT Pro-Am and Pro Championship to help drivers get acclimated to the competition level and venues, while gaining valuable experience. As the first year of the PRO 2, drivers that are eligible include both licensed Pro-Am and Pro Championship drivers. In addition, the PRO 2 competition was available on the Driftstream for the fans at home and remaining events in the PRO 2 Series will be streamed live this season.
"PRO 2 proved to be successful in delivering quality competition for the Friday fans," says Jim Liaw, President of Formula DRIFT. "The PRO 2 drivers are able to compete against each other while gaining valuable experience on the professional level."
Geoff Stoneback faced off against Nate Hamilton in the ONE44 Motorsports / Enkei Wheels Nissan 240 SX in the finals. Stoneback out drove his competitor to earn the very first victory in the PRO 2 and take the lead in the PRO 2 standings. Coming in third place was Carl Rydquist in the Road Race Engineering / Berk Nissan 350Z powered by Garrett Turbo.
"It was a long day running both in the Pro Championship and PRO 2," said Geoff Stoneback, winner of Round 1 of PRO 2. "It was definitely great to run in PRO 2 as it bridges the gap between the Pro Championship and PRO 2. We are happy to be on the podium and the team did great."
The 2014 Formula DRIFT PRO 2 season continues with Round 2 on July 18-19 at Evergreen Speedway. For more information visit: www.formuladrift.com and find Formula DRIFT on Instagram @formulad, Facebook www.facebook.com/formuladrift and Twitter @FormulaD.
Formula DRIFT PRO 2 Standings After One Round
1. Stoneback, Geoff GSR Nissan S14 107.50 Points
2. Hamilton, Nate ONE44 Motorsports / Enkei Wheels Nissan 240SX 84.50 Points
3. Rydquist, Carl Road Race Engineering / Berk Nissan 350Z 74.00 Points
4. Lowe, Jeremy Enjuku Racing Mazda RX-7 67.00 Points
5. Savage, Dan Sikky Manufacturing Mazda RX-8 52.50 Points
6. Heyl, Brad Standard Automotive Apparel / Sikky Manufacturing Nissan 350Z 52.50 Points
7. Parsons, Will NonStop Tuning AutoComp Racing Toyota AE86 52.50 Points
8. Briggs, Dave Achilles Radial / Turbo by Garrett Nissan S14 51.00 Points
9. Primozich, Rob Garage Autohero Track Attack Nissan 240SX 38.00 Points
10. Coffman, Matt Coffman Racing / PSI Nissan S13 36.50 Points
11. Wolfson, Tyler GT Radial SAE Motorsport Mazda RX-7 35.00 Points
12. Evans, James Sikky Manufacturing Nissan 350Z 35.00 Points
13. Van Den Brink, Doug Denofa Motorsports BMW 35.00 Points
14. Hateley, Andy Hately Motorsports BMW E30 325i 35.00 Points
15. Ewerth, Ron Vision / Buddyclub / BRE Scion FR-S 35.00 Points
16. Cisneros, 116 Motorsports Nissan 240SX 35.00 Points
PRO 2 Round 1 Event Results
1. Stoneback, Geoff GSR Nissan S14 Winner
2. Hamilton, Nate ONE44 Motorsports / Enkei Wheels Nissan 240SX 2nd Place
3. Rydquist, Carl Road Race Engineering / Berk Nissan 350Z 3rd Place