Formula DRIFT World Championship: Canada Round Results;
Fredric Aasbo at Top of the Podium in Canada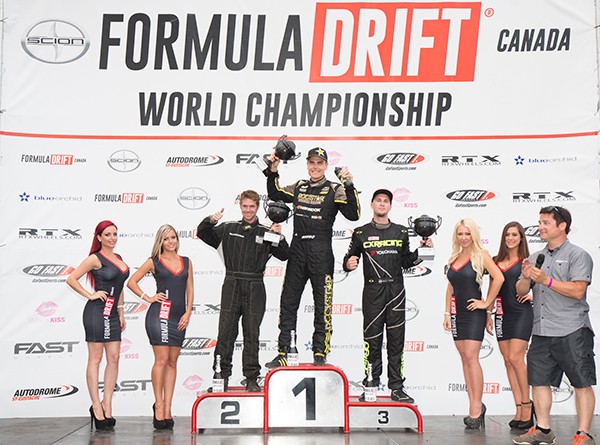 September 10, 2015 – Scion presents Formula DRIFT Canada entered Autodrome St. Eustache for the 8th Round of the inaugural Formula DRIFT World Championship. Fredric Aasbo in the Rockstar Energy Drink / Hankook Tire / Scion tC take the victory to extend his World Championship points lead.
Formula DRIFT Canada at Autodrome St. Eustache was the second world championship round outside of the U.S. Thousands of fans came to witness the on-track action from 39 drivers that represented 8 different countries including the home country of Canada.
"Canada has shown to be a valuable market for the Sport and the Series. The fans here proved once again that they are some of the most enthusiastic fans in the world," said Jim Liaw, President of Formula DRIFT. "The drivers awarded the fans with a dynamic and dramatic competition."
The semi-finals pitted two World Championship contenders, Fredric Aasbo and Matt Field in a battle against each other. A mechanical issue with Field's car caused a sudden power shut off which forced his car to straighten out giving Aasbo the win to advance to the finals. The other semi-final match-up was an all-Canadian battle between two Quebec locals, Tomy Boisvert-Bellemare in his Signature KCS Nissan S13 and Marc Landreville in his Perry Performance Nissan S14. Bellemare edged out Landreville to get to the finals to face World Championship points leader Aasbo.
In the final head-to-head battle, Boisvert-Bellemare challenged Aasbo with aggressive and close driving. Both drivers were near perfect in their lead and chase run, but a slight correction by Bellemare helped the judges make the unanimous decision giving Aasbo the victory.
"Hats off to all the local competitors who welcomed us to their home and put on an amazing show here this weekend in St. Eustache," said Fredric Aasbo, winner of Formula DRIFT Canada. "The win here was the icing on the cake and great momentum for the team as we head into Irwindale next month."
The 2015 Formula DRIFT World, Pro, and PRO2 Championships will continue to Irwindale Speedway: Final Fight on October 9-10 just outside of Los Angeles, California. For more information visit: www.formuladrift.com and find Formula DRIFT on Instagram, Facebookand Twitter. Tune into Formula DRIFT on CBS Sports and check your local listings for airtimes.
Formula DRIFT Canada: Autodrome St. Eustache Event Results

1. Aasbo, Fredric
Rockstar Energy Drink / Hankook Scion tC
Winner
2. Boisvert-Bellemare, Tomy
Signature KCS Nissan S13
2nd Place
3. Field, Matt
CX Racing / Yokohama Tire Nissan S14
3rd Place
4. Landreville, Marc
Perry Performance Nissan S14
4th Place
5. Ng, Charles
Maxxis / Sparkplug . com / Speedhunters Infiniti G37
5th Place
6. Wang, Forrest
Get Nuts Lab Nissan S15
6th Place
7. Kearney, Dean
Oracle Lighting / Achilles Motorsports Dodge Viper
7th Place
8. Ovcharik, Miro
N/A
8th Place
9. Laflamme, Jeff
Chez Dan Mechanic Lexus IS
9th Place
10. Cyr, Pat
Eneos Oil / Yokohama Tire Scion FR-S
10th Place
11. Bakchis, Odi
Feal Suspension / ARK Performance / Nitto Tire Nissan 240SX
11th Place
12. Nishida, Robbie
Achilles Radial Infiniti G37S
12th Place
13. Baribeau, Mats
Gold in The Net Toyota Mark II
13th Place
14. Guitard, Jonathan
Lacroix Tuning / Go Fast Lexus SC
14th Place
15. Grosselin, Alex
Redline Auto Aesthetics / Hyperforme Nissan S14
15th Place
16. Patinka, Bob
Patinka Motorsports / BC Racing Nissan S13
16th Place

2015 Formula DRIFT World Championship Standings

1. Aasbo, Fredric
Rockstar Energy Drink / Hankook Scion tC
587.00 Points
2. Bakchis, Odi
Feal Suspension / ARK Performance / Nitto Tire Nissan 240SX
432.00 Points
3. Field, Matt
CX Racing / Yokohama Tire Nissan S14
331.00 Points