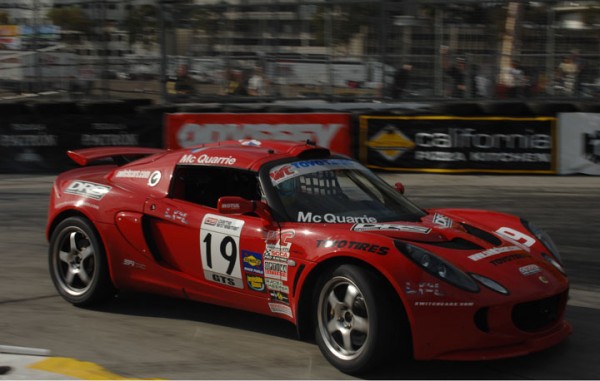 Tyler McQuarrie, of Walnut Creek, Calif., won the GTS class race of the Toyo Tires World Challenge at Long Beach Presented by Bondurant. Nick Esayian, of San Diego, Calif., was second.
McQuarrie, making his World Challenge debut, cruised to a 49.535-second flag-to-flag victory in his No. 19 LPL/DRS/Switcars/LCS/Dayco/M&T Lotus Exige S.
Starting on pole, McQuarrie got a jump on the field on the first lap, aided in part by the poor luck of Peter Cunningham in the No. 43 Acura/RealTime Racing Acura TSX. Following contact with another car, Cunningham's hood opened into the windshield of his Acura on lap one, forcing him into the pits that put him a lap down and ended any challenge the Series' all-time wins leader could have given McQuarrie.
For more info World Challenge
"I had a great start and actually got by a couple of GT cars," McQuarrie said. "I didn't have a working radio in the race, so I didn't actually realize who was behind me. I looked up at the screen on the second lap and saw one of the Acuras head to the pits with the hood up. I dialed it back just a little bit when I felt I could."
McQuarrie also competed in last week's Formula Drift event at Long Beach.
"I have to really thank the LPL and DRS team. They only got this car about five weeks ago and really did a fantastic job with it. To be able to run it here at Long Beach—to run both weekends, is really awesome. I think April in Long Beach is a little bit like May in Indy. It's a special time and to win here is just awesome."
Cunningham, the GTS points leader, finished sixth.
The GTS win was the first time a Lotus had won a race of any kind at Long Beach since Mario Andretti won the 1977 Formula One event in a John Player Lotus.
Acura/RealTime Racing's Esayian finished a distant second to McQuarrie in the No. 34 Acura TSX for his third podium finish in as many races on the season. Michael Pettiford, of Louisville, Colo., finished third in the No. 41 Go4It Racing Schools/Hawk Chevrolet Corvette in finishing third.
Charles Espenlaub, driving as a replacement driver for Grey's Anatomy star Patrick Dempsey, finished fourth in the No. 03 Mazdaspeed/Stoptech/ProParts MAZDA3. Dempsey practiced on Friday and Saturday, but was unable to make the race because of commitments to filming the television show.
Gary Tolar, of Corona, Calif., finished fifth in the No. 86 GMG/GT Racing LLC Porsche 996.
Cunningham remains the GTS Drivers' Championship leader with 358 points over Esayian (317) and Pettiford (275).
The race from Long Beach will be broadcast May 1 at 4:30 p.m. (EDT) on Versus.