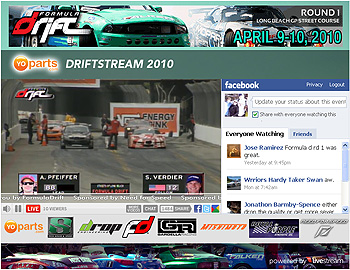 Long Beach, Calif. – April 26, 2010 – Formula DRIFT launched the new Drift Stream with YoParts.com at Round 1: Streets of Long Beach with over 70,000 fans tuning in to watch the event live.
The Drift Stream debuted to rave reviews from drifting fans across the globe after the announcement was made last month of the partnership of Formula DRIFT and YoParts.com to bring live interactive streaming to the 2010 Pro Championship season. The Drift Stream debuted at Round 1: Streets of Long Beach with over 45,000 unique visitors watching live over the weekend. The Formula DRIFT fans consumed over 1.6 million minutes of action in the 2-day event weekend.
"The Drift Stream was a huge success and we look forward to bringing all the Formula DRIFT action to the fans worldwide this season," said Ryan Sage, co-founder of Formula DRIFT. "Fans are not only able to watch via the Formula DRIFT website, but can also embed the Drift Stream to their social networking sites and blogs, and even watch live on select mobile devices. Formula DRIFT will reach a fans across the globe and bring all the action right to them."
Fans watched on multiple websites and mobile devices that included the Formula DRIFT website, Facebook, and various personal websites and blogs. Viewers watched from over 128 countries with the country of Norway leading the way with over 5000 fans cheering and watching their countryman Fredrick Aasbo make his official Formula DRIFT debut and finishing fourth place overall at the event. 25,000 unique visitors also utilized the "On-Demand" feature of the Drift Stream player to watch all of the action from both Friday and Saturday's event.
"Overall we are excited to bring the Formula DRIFT experience to a worldwide audience in a way that would encapsulate a live look and feel and it was made possible through the support of Formula DRIFT, Belle-1 Communications, Mishimoto Automotive, Royal Purple and Need for Speed," said Tom Masiero, co-founder of YoParts.com. "We were able to make that happen and are excited about creating a better viewing experience each event for the Formula DRIFT fan base."
The Drift Stream will continue at Round 2: Road to the Championship on May 7-8 in Braselton, GA when Formula DRIFT returns to Road Atlanta. Last season Round 2 proved to be one of the most entertaining and exciting events of the season with Formula DRIFT champion Chris Forsberg taking the victory on his way to the championship.
For more info visit DriftStream