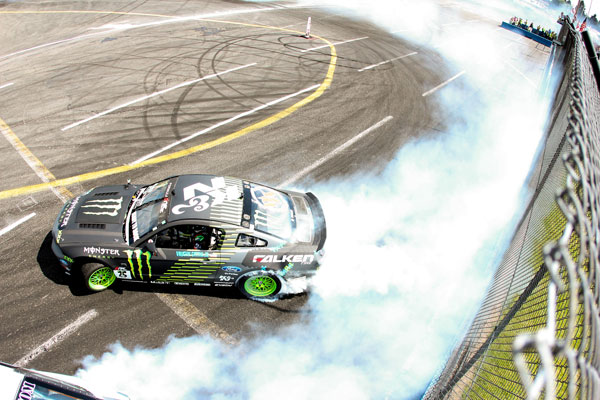 Long Beach, Calif. – October 11, 2012 – Ford is expanding its involvement in professional drifting competition by becoming an official partner of Formula DRIFT and the 2013 Formula DRIFT championship.
"Our involvement with Formula DRIFT is not new, but we are taking it to the next level with this announcement," said Jamie Allison, director, Ford Racing. "Enthusiasts can now see our great Mustangs on the track with great drivers like Vaughn Gittin, Jr. and Justin Pawlak, and they'll get a better chance to interact with our stars as well as our exciting production vehicles off track through consumer outreach at all the events. Formula DRIFT is a major part of our action motorsports program targeting new audiences for Ford."
Ford has actively supported the professional drifting efforts of Team Falken Tire and drivers including Gittin, Pawlak and others since 2005. Two-time D1 Grand Prix champion Gittin won the 2010 Formula DRIFT championship at the wheel of a Mustang GT and leads the 2012 series going into this weekend's finale. Pawlak, the 2011 Formula DRIFT series runner-up, won the first two rounds in 2012 and currently sits fourth – 70 points behind Gittin.
Initially popularized by fans of import sport compacts, professional drifting has taken root with a younger, more active audience that's interested in nontraditional, emerging motorsports. Formula DRIFT estimates 87 percent of its fan base is 18 to 34 years old. Ford involvement in Formula DRIFT is a significant part of the company's outreach to this group that might consider a Ford vehicle like the Fiesta, Focus, Mustang or Raptor.
Drifting is one of many nontraditional approaches Ford is using to reach new customers including social network conversations, soliciting user-generated content through programs like Fiesta Movement and Social.Ford.com, cross-platform marketing programs like Random Acts of Fusion, and the Octane Academy experiential program featuring Gittin, Ken Block, Brian Deegan and Tanner Foust.
"Ever since Ford came into the series competitively in 2005, we have seen the power of what a factory-backed effort can do," said Ryan Sage, co-founder/vice-president, Formula DRIFT. "Now we are even more excited to have them on as an official partner for the final event of the year and into 2013."
The finale of the 2012 season of the Formula DRIFT championship is taking place this weekend at Irwindale Speedway (east of Los Angeles) on October 12-13, 2012 for the final event of its ninth season. The Mustangs of Gittin and Pawlak are both in contention for the championship. The Formula DRIFT championship event will be broadcast live on www.FormulaD.com/live Friday, Oct. 12 and Saturday, Oct. 13.
[youtube]http://www.youtube.com/watch?v=YUKPP01Kx-U&feature=plcp[/youtube]