Formula DRIFT PRO 2 Round 4 at Irwindale Speedway Results;
Jeff Jones Takes Competition Victory and Dan Savage is Crowned PRO 2 Champion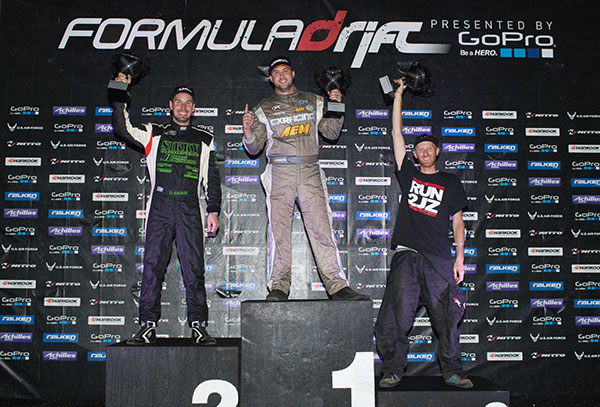 Long Beach, Calif. – October 10, 2014 – Formula DRIFT PRO 2 finished the season at Irwindale Speedway with final round of 2014. Jeff Jones in the CX Racing Nissan S14 takes the event victory, while Dan Savage in the Sikky Manufacturing Mazda RX-8 is crowned PRO 2 champion.
PRO 2 finished its inaugural season at Irwindale Speedway. PRO 2 was introduced as an intermediary series between the Formula DRIFT Pro-Am and Pro Championship to help drivers get acclimated to the competition level and venues, while gaining valuable experience. As the first year of the PRO 2, drivers that are eligible include both licensed Pro-Am and Pro Championship drivers. Drivers were also given the option to compete in both PRO 2 and the Pro Championship.
The finals pitted Jeff Jones against Dan Savage. Savage on his chase run crashed giving Jones his first ever competition victory. Brandon Wicknick in the Driftmotion D-Spare Nissan 2JZ S13 rounded out the podium in third place.
"This is not only my first time qualifying for the Pro Championship and for PRO 2 we were on fire," said Jeff Jones, winner of Round 4 of PRO 2. "This is just killer to have the car dialed in. I just wish we could reset this season, but I can not wait for next year."
In a tightly fought championship chase, Dan Savage edged out the point leader, Geoff Stoneback with his second place podium finish to win the PRO 2 championship by a mere 5.50 points.
"Its surreal knowing that it was that close coming into it," says Dan Savage, 2014 PRO 2 Champion. "Being here at Irwindale ten years ago and seeing what drifting was for the first time that it is numbing knowing that I made it here at this track."
For more information visit: www.formuladrift.com and find Formula DRIFT on Instagram @formulad, Facebook www.facebook.com/formuladrift and Twitter @FormulaDrift.
Formula DRIFT PRO 2 2014 Final Standings
1. Savage, Dan Sikky Manufacturing Mazda RX-8 286.50 Points
2. Stoneback, Geoff GSR Nissan S14 281.00 Points
3. Lowe, Jeremy Enjuku Racing Mazda RX-7 259.00 Points
4. Jones, Jeff CX Racing Nissan S14 246.00 Points
5. Evans, James Sikky Manufacturing Nissan 350Z 226.00 Points
6. Hamilton, Nate ONE44 Motorsports / Enkei Wheels Nissan 240SX 220.00 Points
7. Coffman, Matt Coffman Racing / PSI Nissan S13 182.00 Points
8. Wicknick, Brandon Driftmotion D-Spare Nissan 2JZ S13 173.00 Points
9. Parsons, Will NonStop Tuning AutoComp Racing Toyota AE86 157.50 Points
10. Cisneros, Tony 116 Motorsports Nissan 240SX 121.00 Points
11. Rydquist, Carl Road Race Engineering / Berk Nissan 350Z 109.00 Points
12. Rintanen, Juha Juha Rintanen Motorsport Nissan S14 109.50 Points
13. Hill, Eric Achilles Radial Fueled Racing 240SX 109.50 Points
14. Mertzanis, Dennis Vision Buddyclub BRE Scion FR-S 106.50 Points
15. Hateley, Andy Hately Motorsports BMW E30 325i 87.50 Points
16. Wolfson, Tyler GT Radial SAE Motorsport Mazda RX-7 86.00 Points
PRO 2 Round 4 Event Results
1. Jones, Jeff CX Racing Nissan S14 Winner
2. Savage, Dan Sikky Manufacturing Mazda RX-8 2nd Place
3. Wicknick, Brandon Driftmotion D-Spare Nissan 2JZ S13 3rd Place