Formula DRIFT PRO 2 Irwindale Speedway Results;
Alex Heilbrunn Wins the PRO 2 Championship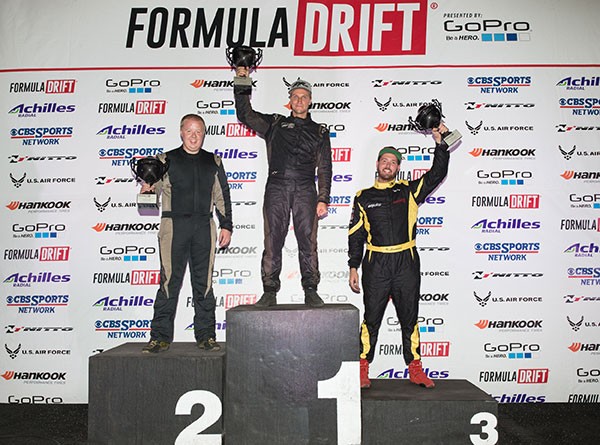 Long Beach, Calif. – October 9, 2015 – Formula DRIFT PRO 2 completed the final event of the 2015 season at Irwindale Speedway. Juha Rintanen in the Juha Rintanen Motorsports Nissan S14 takes the event victory while Alex Heilbrunn in the IMR BMW 3-Series wins the PRO 2 championship.
The PRO 2 finals provided an action packed evening for the Friday night crowd. Rintanen, the number one qualifier, met Cameron Moore in the final battle. Rintanen out drove his opponent to take his first PRO 2 victory and move up to third in the overall PRO 2 standings.
"I'm so excited as we had so many troubles over the past two years here in Formula DRIFT PRO 2," said Juha Rintanen, winner of Round 4 of 4 events of the PRO 2 Championship. "We stayed here for two months and tuned the car better so it turned out for the best."
The top eight finishers in PRO 2 will earn or renew their Formula DRIFT Pro license next season.
"It's been great to see how PRO 2 has developed and it will be exciting to see these young drivers enter the Pro Championship," says Jim Liaw, President of Formula DRIFT. "The future of the sport can be found through many of these talented up and coming drivers."
Peruvian driver, Heilbrunn put the finishing touch on his successful season with a fifth place finish to take the PRO 2 championship. Despite not finding the podium, Heilbrunn accumulated enough points through the season to enter the Finals with the title clinched.
"It feels amazing! I've had a great season and great team," said Alex Heilbrunn, winner of the PRO 2 Championship. "It was good that everything came together and we were able to perform the way we wanted to and get the championship and I want to thank everyone that was part of it."
For more information visit: www.formuladrift.com and find Formula DRIFT on Instagram, Facebook and Twitter. Tune into Formula DRIFT on CBS Sports and check your local listings for airtimes.
PRO 2 Round 4 of 4 – Irwindale Speedway Event Results
1. Rintanen, Juha Juha Rintanen Motorsports Nissan S14 Winner
2. Moore, Cameron VIP Performance / Falken Tire Lexus SC300 2nd Place
3. Lawrence, Kevin Enjuku Racing Nissan S13.4 3rd Place
4. Jones, Jeff DNA Motoring Nissan S14 4th Place
5. Heilbrunn, Alex IMR BMW 3-Series 5th Place
6. Litteral, Ryan N/A 6th Place
7. Gray, Andy DriftEbisu.com / Achilles Tire Toyota Chaser 7th Place
8. Evans, James Sikky Racing Nissan 350Z 8th Place
9. Sumida, Hiro Bluemoon Performance / Tomei Powered USA Toyota Cressida 9th Place
10. Wicknick, Brandon Chase Bays / RUN2JZ Nissan S13 10th Place
2015 Formula DRIFT PRO 2 Championship Standings
1. Heilbrunn, Alex IMR BMW 3-Series 354.00 Points
2. Evans, James Sikky Racing Nissan 350Z 229.00 Points
3. Rintanen, Juha Juha Rintanen Motorsports Nissan S14 228.00 Points