Formula DRIFT Round 6: Throwdown Results;
James Deane Continues His Winning Ways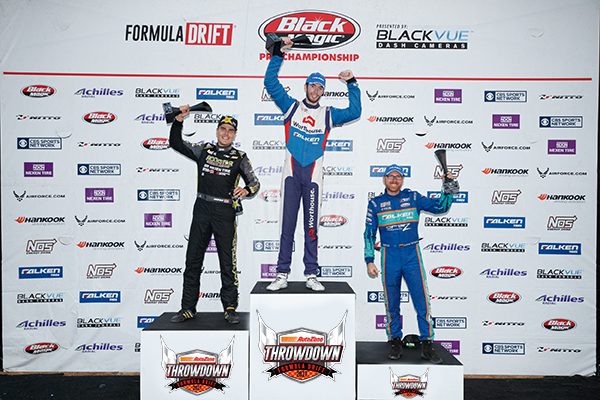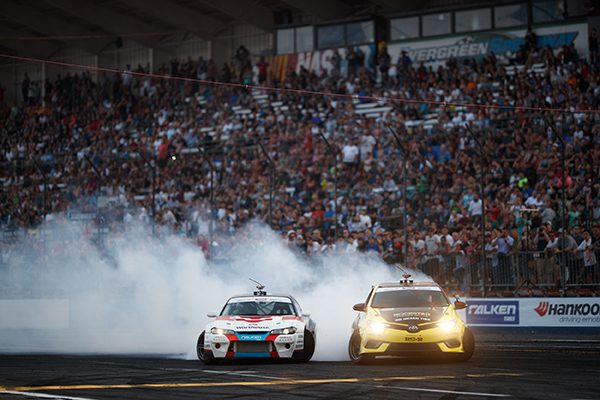 Long Beach, Calif. – August 5, 2017 – Formula DRIFT Black Magic Pro Championship presented by BlackVue Dash Cameras returned to Evergreen Speedway for the Round 6: Autozone Throwdown. Points leader James Deane once again finishes on top of the podium to increase his lead in the Pro Championship standings.
Round 6: Autozone Throwdown was a highly competitive event that sets up a two-way battle for the championship between Deane and former Formula DRIFT champion, Fredric Aasbo with only two events remaining in the season. The capacity crowd was kept entertained throughout the event weekend, while the Livestream drew over 1 million views over the course of the weekend.
"Year in and year out the fans in the Pacific Northwest have proven to be some of the most diehard drifting fans out there," said Jim Liaw, President of Formula DRIFT. "This event truly showcased what drifting is all about with the drivers putting on one amazing show for the fans.
In the Top 4, number one qualifier and current points leader, James Deane in the Worthouse Drift Team / Falken Tire Nissan 240 faced off against former champion Dai Yoshihara in the Falken Tire / Turn 14 Distribution Subaru BRZ. It was a hard fought battle, but Deane was able to take advantage of an error by Yoshihara to move into the Finals. On the other side of the Top 4 bracket, former champion Fredric Aasbo in the Rockstar Energy / Nexen Tire Toyota Corolla iM faced Aurimas "Odi" Bakchis in the Falken Tires / Drifz Wheels / ARK Performance Nissan 240SX. Aasbo edged out his opponent to face the current points leader in a battle that could effect the rest of the season. Both drivers put it all on the line with the first battle too close to call forcing the judges to call a One More Time. The final battle was also very close, but after deliberation Deane was able to earn the victory to increase his points lead on Aasbo with only two events remaining.
"This was the toughest event so far this year for me," said James Deane, winner of Round 6: Throwdown. "This track was really challenging, but somehow the stars aligned and we managed to qualify first and go against my teammate Piotr Wiecek, Dai Yoshihara, and finally Fredric Aasbo, who is really fast and doesn't make mistakes and really is like a robot. I just had to give it every everything I got and it worked out, but I was dancing with the devil."
The action continues to Round 7: Showdown at Texas Motor Speedway on September 8-9. For more information visit, www.formulad.com and find Formula DRIFT on Instagram @formulad, Facebook www.facebook.com/formuladrift, Twitter @FormulaDrift, and Snapchat – formula_drift. Tune into Formula DRIFT on CBS Sports and check your local listings for airtimes.
Round 6: Throwdown Results
1. Deane, James
Worthouse Drift Team / Falken Tire Nissan 240
Winner
2. Aasbo, Fredric
Rockstar Energy / Nexen Tire Toyota Corolla iM
2nd Place
3. Bakchis, Aurimas "Odi"
Falken Tires / Drifz Wheels / ARK Performance Nissan 240SX
3rd Place
4. Yoshihara, Dai
Falken Tire / Turn 14 Distribution Subaru BRZ
4th Place
5. Wiecek, Piotr
Worthouse Drift Team / Falken Tire Nissan 240
5th Place
6. Denofa, Chelsea
BC Racing / Nitto Tire Ford Mustang RTR
6th Place
7. Coffman, Matt
Nexen Tire / Coffman Racing Nissan 240
7th Place
8. Pawlak, Justin
Roush Performance Ford Mustang
8th Place
9. Tuerck, Ryan
Gumout / Nameless Performance / Hankook Toyota 86
9th Place
10. Essa, Michael
Achilles Tire / Essa Autosport BMW E46
10th Place
11. Bluss, Kristaps
HGK / Mast / Motul / Wisefab BMW E46
11th Place
12. Gittin, Vaughn
Monster Energy / Nitto Tire Ford Mustang RTR
12th Place
13. Heilbrunn, Alex
Monster BMW E46
13th Place
14. Burkett, Dan
RAD Industries / Nexen Tire Toyota Supra
14th Place
15. Moore, Cameron
Nameless Performance / BN Sports / Nexen Tire GT86
15th Place
16. Castro, Jhonnattan
Gerdau Metaldom / Nexen Toyota GT86
16th Place
2017 Formula DRIFT Black Magic Championship Presented by BlackVue Standings After 6 Events
1. Deane, James
Worthouse Drift Team / Falken Tire Nissan 240
475.00 Points
2. Aasbo, Fredric
Rockstar Energy / Nexen Tire Toyota Corolla iM
418.00 Points
3. Bluss, Kristaps
HGK / Mast / Motul / Wisefab BMW E46
329.00 Points
2017 Manufacturer Championship Standings After 6 Events
1. Toyota
718.00 Points
2. Ford
530.00 Points
3. BMW
295.00 Points
4. Dodge
257.00 Points
5. Nissan
192.00 Points
6. Infiniti
138.00 Points
2017 Tire Championship Standings After 6 Events
1. Falken
889.00 Points
2. Nexen
773.00 Points
3. Achilles
735.00 Points
4. Nitto
562.00 Points
5. Hankook
526.00 Points