Formula DRIFT PRO 2 Round 3 Seattle Results;
Hometown Hero Matt Vankirk Takes the Win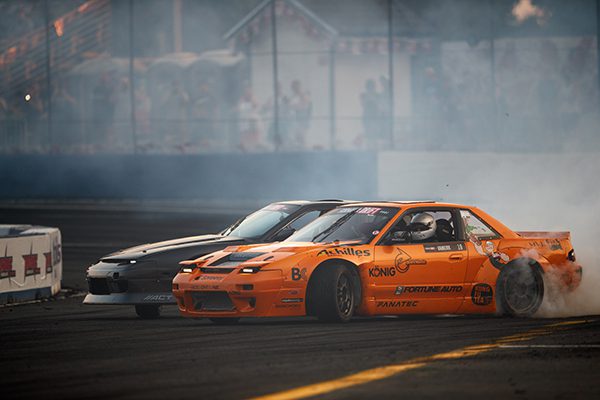 Long Beach, Calif. – August 4, 2017 – The Formula DRIFT PRO 2 season continued to Evergreen Speedway in Monroe, Washington. Local driver Matt Vankirk takes the win and moves to second place in the PRO 2 standings with one event remaining in the season.
PRO 2 returned to Evergreen Speedway for the third event of four for the season. The young drivers took center stage for the Northwest fans.
"This was one of the most exciting and competitive PRO 2 events," said Jim Liaw, President of Formula DRIFT. "The drivers pushed the limits and gave the fans a great show."
The semi-finals pitted Matt Vankirk in the Fortune Auto / Achilles Nissan 240 with number one qualifier, Dirk Stratton in the Lingenfelter Performance / Achilles Corvette. Vankirk outdrove his opponent to move into the Finals. On the other side of the bracket Josh Robinson faced Dylan Hughes in the DHR Dirtfish Nissan 240. Robinson had a few errors that gave Hughes the win. The finals was a tight battle and after a One More Time, Vankirk was able to edge out his opponent to get his first victory of the season and move within 20 points from the current leader, Travis Reeder.
"It was a tough fight here. The team worked hard, " said Matt Vankirk, winner of PRO 2: Seattle. "And we came out with the win. Hats off to my team and all my sponsors."
Formula DRIFT continues to Round 7: Showdown at Texas Motor Speedway on September 8-9, 2017. For more information visit, www.formulad.com and find Formula DRIFT on Instagram @formulad, Facebook www.facebook.com/formuladrift, Twitter @FormulaDrift, and Snapchat – formula_drift. Tune into Formula DRIFT on CBS Sports and check your local listings for airtimes.
Formula DRIFT PRO 2: Seattle Results
1. Vankirk, Matt
Winner
2. Hughes, Dylan
2nd Place
3. Stratton, Dirk
3rd Place
4. Robinson, Josh
4th Place
5. Lawrence, Kevin
5th Place
6. Reeder, Travis
6th Place
7. Schmidt, Brandon
7th Place
8. Brockway, Donovan
8th Place
9. Jaeger, Ola
9th Place
10. Filippi, Chris
10th Place
11. Goble, Brody
11th Place
12. George, Danny
12th Place
13. Meeks, Austin
13th Place
14. Szilveszter, Gyorgy
14th Place
15. Beechum, Trenton
15th Place
16. Waters, Randall
16th Place
2017 Formula DRIFT PRO 2 Championship Standings After 3 Events
1. Reeder, Travis
Nissan 240
228.00 Points
2. Vankirk, Matt
Fortune Auto / Achilles Nissan 240
208.00 Points
3. Stratton, Dirk
Lingenfelter Performance / Achilles Corvette
154.00 Points