LOS ANGELES, California (November 20, 2019) – Engine builder Stephan Papadakis today reveals the engine dyno results for his modified B58 engine project. The finale episode of the 1,000-horsepowered 2020 Toyota GR Supra series is now live on YouTube.
Watch it here: https://youtu.be/WzgzSnYDvz4
"This was a big moment for us. You can't hide from the number on the engine dyno," said Papadakis. "Until now it has all been theoretical. Running the engine on a dyno gave us a chance to put that theory to the test."
In this episode, Papadakis achieves his goal of tripling the stock power output. The 1,033 horsepower result is a validation of a four-month journey to explore the all-new Supra inline-six engine.
"This kind of project is about exploration and the process is about edging toward the limit," said Papadakis. "We've set a new benchmark now, but it's far from over. Watch this space."
After pulling the stock engine from a new car with barely 500 miles on it and tearing it down for the first video this summer, released just weeks after the all-new Supra hit dealerships, he sourced and manufactured key upgrades for Episode 2. For the third episode in the YouTube series, he guided viewers through the assembly of the modified B58 motor.
Dyno testing for Episode 4 took place at Mountune USA, a facility near Papadakis Racing's Southern California workshop that has an engine dyno capable of holding 1,000-plus horsepower. The process was not without its challenges, which Papadakis details in the video.
Earlier this month, Papadakis took the project to the Toyota booth at the 2019 SEMA Show in Las Vegas. There, he delivered an unprecedented daily livestream of the build from the show floor. Starting with the bare block on Wednesday, he worked to assemble the project engine for two hours each day until it was complete on Friday.
The 2020 Toyota GR Supra engine is all new. It comes equipped from the factory with a turbocharged inline six cylinder 3.0-liter engine rated at 335 horsepower and 365 lb.-ft. of torque. The brand new B58 engine follows the beloved 2JZ model from the previous generation Supra. First introduced in the 1990s, the 2JZ engine enjoyed more than 20 years of production. It remains a favorite of the aftermarket, with many tuners and racers still modifying it today for high-performance builds.
"It has been really exciting to dig into a brand new engine that doesn't have an established roadmap to extreme performance," said Papadakis. "It's fantastic to have achieved our goal in such a short time and we're already thinking about what happens next: there's a lot more potential in this engine that we haven't even begun to explore."
Subscribe to https://www.youtube.com/user/PapadakisRacing to be notified as new shows are released to the channel.
ENGINE PROJECT SPECIFICATIONS
Engine: Toyota B58, Inline 6 cylinder / Turbocharged
Fuel: E85 Ignite Red 114 Ethanol
Power: 1,033 hp / 908 lb.-ft. Torque
Engine size: 3.0 Liter
Builder: Stephan Papadakis Racing
Valvetrain: Supertech Performance
Cylinder headwork: Portflow Design
Fuel injection: AEM Electronics Infinity 708
Turbocharger: Borg Warner EFR 9280
Engine oil: Lucas Oil Synthetic 5W50
Wastegates: Dual 44mm Tial MV-R
Fuel injectors: 6 Injector Dynamics 2000cc
Fuel regulator: AEM
Fuel filter: AEM 25-201
Fuel pumps: AEM 400 LPH (2)
Rods: Carillo Forged Steel
Pistons: JE Custom 11.0 to 1 compression
Intake manifold: Mountune 3D Printed Aluminum
Crankshaft: Toyota OEM
Turbo manifold: Full-Race
Head studs: ARP
Exhaust cam: Kelford Cams
Papadakis is a legend of sport-compact racing. His winning vehicles defy expectations and lead industry trends. He established his reputation as an innovator in the 1990s with the first front-wheel-drive, tube-chassis drag car in the U.S. His team earned multiple records and championships, turning in elapsed times and trap speeds previously thought unattainable in front-drive drag cars.
Since moving to Formula Drift in 2004, Papadakis' winning vehicles include the landmark V8-powered Scion tC, and the current 1,000-horsepower, 4-cylinder rear-wheel-drive converted Toyota Corolla Hatchback — which won its first outing in 2018 and is fighting at the front of the Formula Drift Championship this season. Two of his competition builds have been displayed in Los Angeles' Petersen Museum.
On YouTube, Papadakis has found a strong audience for his regular content uploads focusing on the technical side of racing and vehicle performance. Channel content has generated millions of views over the past few months and has topped 300,000 subscribers.
This four-part video series is a production of Red Team LA in collaboration with Papadakis Racing.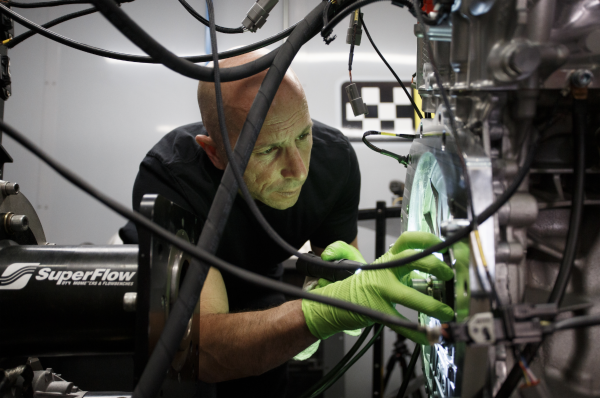 Stephan Papadakis works on the dyno for Episode 4 of the Supra engine build series.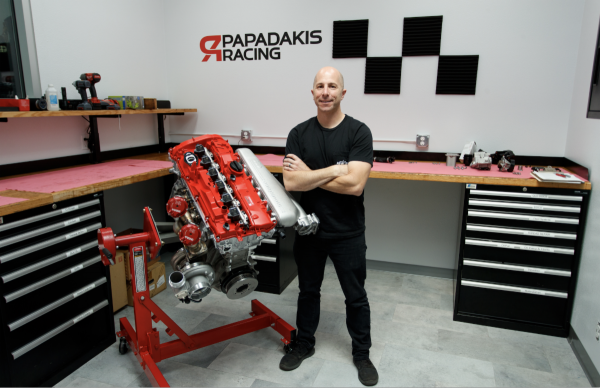 After four months of development, Stephan Papadakis has reached his 1,000 hp goal with the all new Supra engine.