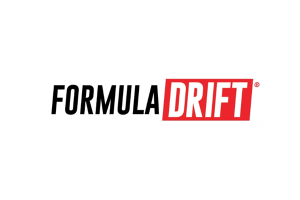 Formula DRIFT ends each season with its annual awards ceremony. Despite the restrictions placed on it by COVID-19, the organizers wanted to recognize the top teams and drivers who make the sport truly special. As a result, they created a Virtual Awards Banquet for 2020 and made it available via the very popular Formula DRIFT livestream, allowing fans to join in for the very first time.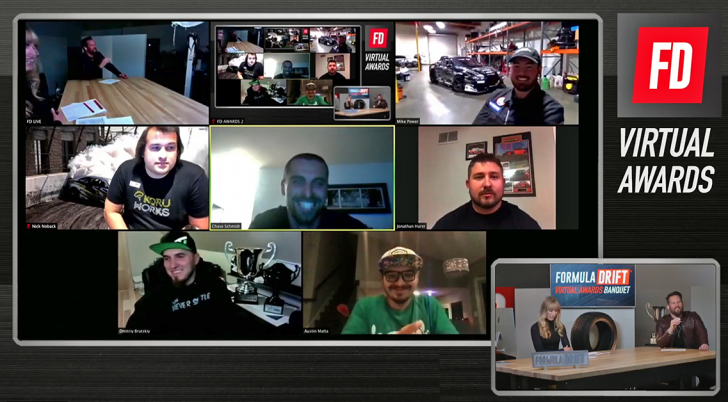 Here are the awards for outstanding performances:
2020 FD PRO CATEGORY AWARDS
2020 FORMULA DRIFT PRO CHAMPIONSHIP
1. Vaughn Gittin Jr – Champion for the second time, previously 2010
2. Chelsea DeNofa – RTR Motorsports teammate to Gittin Jr
3. Ryan Tuerck
AUTO MANUFACTURER'S CUP
For the first time in FD history, Ford took top place
TIRE MANUFACTURER'S CUP
This was also the first win for Nitto Tire
FAN FAVORITE DRIVER
The public voted for Adam LZ
FAN FAVORITE CAR
The public chose the Enjuku Racing Nissan S15 driven by Adam LZ
ROOKIE OF THE YEAR
Awarded to Adam LZ based on accumulating 288 points throughout the season to finish in 12th place overall
MOST IMPROVED DRIVER
Based on a comparison of results from 2019 to 2020, Taylor Hull ranked 24th in 2019 and climbed to 10th this year
BEST DRIFTING STYLE
Voted on by FD teams, this award went to Chris Forsberg
HARDEST CHARGER
Awarded to Chelsea DeNofa, the FD teams voted for the driver who puts it all out there, on every run, in every battle throughout 2020
SPIRIT OF DRIFTING
There was a tie between Jeff Jones and Rome Charpentier for the driver who best represented the sport of drifting during 2020 with his tenacity, professionalism and positivity
SPOTTER OF THE YEAR
Voted for by FD teams, Stephan Papadakis from Papadakis Racing took the honor
CREW MEMBER OF THE YEAR
Jason Dixon from RTR Motorsports was voted for by FD teams
CREW CHIEF OF THE YEAR
Also voted for by the teams, James Caldwell from Chris Forsberg Racing took the top spot
TEAM MANAGER OF THE YEAR
Stephan Papadakis from Papadakis Racing has won this team vote for multiple years
2020 FD LINK ECU PRO2 CATEGORY AWARDS
2020 FORMULA DRIFT LINK ECU PRO2 CHAMPIONSHIP
1. Dmitriy Brutskiy – Champion
2. Jonathan Hurst
3. Joshua Love (Rookie)
4. Blake Olsen
5. Austin Matta (Rookie)
6. Mike Power (Rookie)
7. Nick Noback (Rookie)
8. Chase Schmidt (Rookie)
The top eight PRO2 drivers are eligible for FD PRO licenses in 2021
FAN FAVORITE DRIVER
The public vote went to Micah Diaz
FAN FAVORITE CAR
The public chose the Hold Fast / Proper Fabworks BMW E46 driven by Micah Diaz
ROOKIE OF THE YEAR
Joshua Love finished third overall
MOST IMPROVED OF THE YEAR
Dmitriy Brutskiy improved from 27th in 2019 to being PRO2 Champion in 2020
2021 SEASON
Thank you for supporting the 2020 Formula DRIFT PRO and Link ECU PRO2 Championships. We will communicate details of the 2021 FD schedule in the New Year. Please visit formulad.com for driver profiles, new content and more.
ABOUT FORMULA DRIFT
Formula DRIFT is recognized as the leading international drifting championship. Established on the streets of Japan, drifting has evolved into a worldwide competitive sport that challenges each driver's ability and control. Formula DRIFT provides a series for the best professional drifters from across the globe to compete nationwide for the coveted Formula DRIFT Championship. As the first official drifting series in North America, Formula DRIFT has taken competitive motorsports to the extreme, attracting drift fans and car enthusiasts from all walks of life, and established itself as the global leader for the sport.
2020 FORMULA DRIFT OFFICIAL SPONSORS
Major Sponsor, Official Vehicle Lighting, Dash Cam & Jump Starter – TYPE S
Major Sponsor, Official Energy Drink – NOS Energy Drink
Major Sponsor, Official Military Branch – United States Air Force
Major Sponsor, Official Engine Oil – Royal Purple
Major Sponsor, Official ECU, PRO2 Title Sponsor – Link Engine Management
Major Sponsors – Achilles Tires, Falken Tires, GT Radial
Tire Supplier – Nexen Tire, Nitto Tire
Official Sponsors – Ford Performance, BC Racing, Toyota Racing
Associated Sponsors – Enkei Wheels, Torque Drift, NGK Spark Plugs, Rays Wheels
Technical Partner – PCI Race Radios, Proform