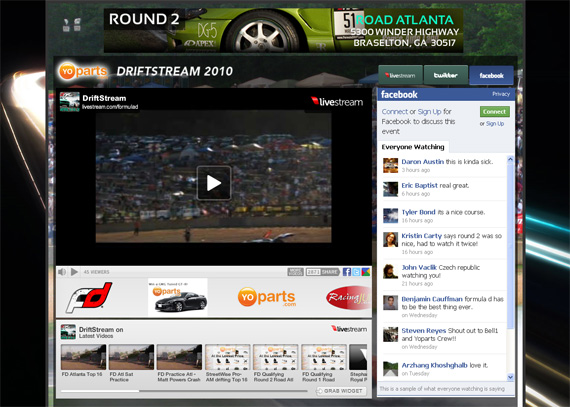 Long Beach, Calif. – May 13, 2010 – Formula DRIFT continued the new DriftStream with YoParts.com at Round 2: Road to the Championship registering a massive 238,500 unique viewers watching the event live. Formula DRIFT and YoParts.com partner with Justin.tv to distribute the live stream. Over 128 countries tuned in to watch the action at Road Atlanta.
"The first live stream had over 78,000 unique IP's, this one registered 238,500 unique IP's. These numbers are absolutely ground-breaking," said Ryan Sage, co-founder of Formula DRIFT. "We are talking about a minimum of 238,000 people that chose to watch the broadcast, and not just random clicks. These numbers don't even take into account anyone else in the room of the specific IP registered. If we were using Nielson TV ratings, these numbers would be closer to 500,000 individual viewers. This is a massive home run."
Formula DRIFT and YoParts.com have partnered with Justin.tv, the easiest way to share live video, to help feed the DriftStream across multiple channels. Justin.tv specializes in live streaming and helps engage with the live audience.
"Justin.tv is very excited about the partnership with Formula DRIFT. Formula D's content is a perfect use case of our platform – great, professionally created content that needs an outlet to reach its global fanbase," said Kevin Lin, COO of Justin.tv. "The test broadcast of the Road to the Championship event in Atlanta on Justin.tv drew over 200,000 unique viewers in the first day. Clearly there are drift fans out there anxious to get access to these live events, and Justin.tv is going to be that source for them."
"After just two events the future of the DriftStream is looking bright! We were able to deal with some pretty difficult technology challenges and with the help of our DriftStream chat audience we were able to fine tune the stream each day," said Tom Masiero, co-founder of YoParts.com. "This event we implemented a new feature that that included the behind the scenes audio from the Official Radio chatter that received rave reviews. This event would not have been possible without our sponsors Royal Purple, Mishimoto, Need for Speed, RacingJunk.com and Belle-1 Communications. We are looking forward to Round 3: The Gauntlet in Wall, NJ with some great new features for the Formula Drift Fan base!"
The Drift Stream will continue at Round 3: The Gauntlet on June 4-5 in Wall, NJ when Formula DRIFT returns to Wall Speedway.