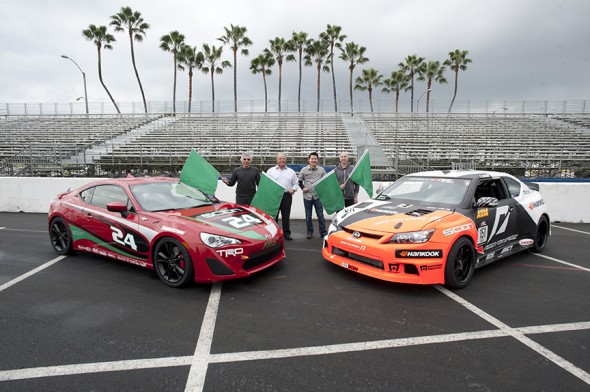 LONG BEACH, Calif. (Feb. 19, 2013) — The green flag signaling the start of construction for the 39th Annual Toyota Grand Prix of Long Beach, which will run April 19-21, fell this morning on Shoreline Drive, the famed racing circuit's front straightaway.
The honorary construction foremen were Long Beach Mayor Bob Foster, Papadakis Racing owner Stephan Papadakis, Formula DRIFT President & Co-Founder Jim Liaw and Grand Prix Association of Long Beach President & CEO Jim Michaelian. Also on-hand were the Papadakis Racing Scion tC, which will be driven in 2013 by top Drifting driver Frederic Aasbo, and, courtesy of Toyota Motorsports, an all-new, race-prepared Scion FR-S that will be driven in the 2013 Toyota Pro/Celebrity Race.
"Our race circuit will feature something extra this year as we will be hosting the first-ever night racing in the Motegi Racing Super Drift Challenge on Friday and Saturday," said Michaelian. "Along with the six other racing events here in April, this should make for one of the most entertaining weekends in our history."
The setting of the first of more than 14 million pounds of concrete blocks that line the track marks the beginning of two months of work preparing for the 175,000 fans expected during race weekend.
"It's three days of great parties and great racing," said Foster. "The Grand Prix brings a lot of people to Long Beach. Our hotels get filled up, our restaurants get filled up and people understand that Long Beach is a really a great city, a great place to have a good time."
Track Construction
More than 30,000 working hours will be spent installing the  blocks, three miles of fencing and 16,000 bolted-together tires, along with 16 huge spectator grandstands, seven pedestrian bridges and giant-vision boards for full-circuit TV coverage. The heavy-duty blocks and fencing, however, are merely a start."
Leading up to race weekend, our staff will also install hospitality suites, tents, electrical  equipment, phones, porta-johns, trash containers and a hundred other little things up until race weekend," said Dwight Tanaka, director of operations for the Grand Prix Association.  "Then, when the last checkered flag falls on Sunday night, we start to take everything down, inspect it and get ready for next year."
All businesses along the race circuit, which includes Shoreline Drive, Aquarium Way and Pine Ave., will remain open during construction of the racetrack.
The 2013 Toyota Grand Prix of Long Beach will feature racing from the IZOD IndyCar Series, Tequila Patrón American Le Mans Series, Firestone Indy Lights, Pirelli World Challenge, Formula DRIFT, Robby Gordon OFF-ROAD Stadium SUPER Trucks and the Toyota Pro/Celebrity Race.
Fans can select and pay for their seats, parking and paddock passes online at gplb.com. Tickets can also be ordered by calling the toll-free ticket hotline, (888) 82-SPEED, and callers can request a printed ticket brochure that includes a circuit map, ticket prices, order form and other information. Also featured on gplb.com is the latest Toyota Grand Prix of Long Beach news, downloadable ticket brochure and racetrack information, photos and ongoing announcements of special race week activities.
Ticket prices range from $28 for a Friday General Admission ticket to $130 for a threeday ticket that includes Sat./Sun. reserved seating in grandstand upper levels.  Pre-paid parking packages are also available, along with handicapped seating, IndyCar Paddock passes, Super Photo tickets and a wide variety of Hospitality Club packages.
Fans can also follow the Toyota Grand Prix of Long Beach on Facebook at GrandPrixLB and on Twitter @ToyotaGPLB.