Tag:
Road Race Engineering
[dailymotion]http://www.dailymotion.com/video/x1zpxq5_road-race-engineering-presents-carl-rydquist-2014-fdmia-via-thirstyfilm[/dailymotion]
[youtube]https://www.youtube.com/watch?v=NrdT3-KRJW0[/youtube]
2014 is a big year for Road Race Engineering, Berk Technology and our driver Carl Rydquist. Formula Drift has become more competitive than ever and nowadays in order to be competitive, the cars have to be extremely developed, the driver exceptionally talented and the teams must bring pro level experience. We're working on all
of these fields:
Currently the tech crews at RRE and Berk are working double duty to get the RRE Berk Nissan 350Z V8 Turbo as competitive as possible for the 2014 season. We're keeping our 6.0 liter V8 and building a custom Garrett GTX4088R single turbo setup that will let us pass the magic 1000 hp limit. With that comes several other updates to make the car light and quick, including a C&R Racing Nascar dogbox transmission. More spec details will be released soon or simply swing by the shop if you can't wait!
We have also committed to run BOTH the Formula Drift PRO Championship and FD Pro2. This will maximize Carl's seat time and helps close the experience gap to the long time front runners in drifting. There's no lack of speed or talent in our tall Viking driver "Sweedness" but when the option presented itself to add competitive drifting experience and exposure in front of the fans for all of our sponsors, it was a golden opportunity.
Below is a rendering of the car in the trademark Road Race Engineering colors that we will use this season. Until our title sponsorship is completely negotiated and signed on the dotted lines, we want to emphasize our love and support for Reach Out World Wide which is a globally acting first response relief team that jumps into action when a disaster strikes. ROWW.org was founded by our great friend and inspirer Paul Walker.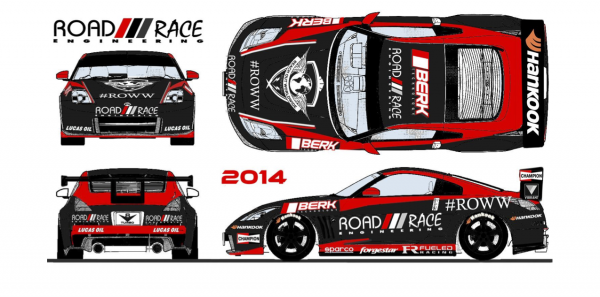 CLICK HERE FOR MORE INFORMATION