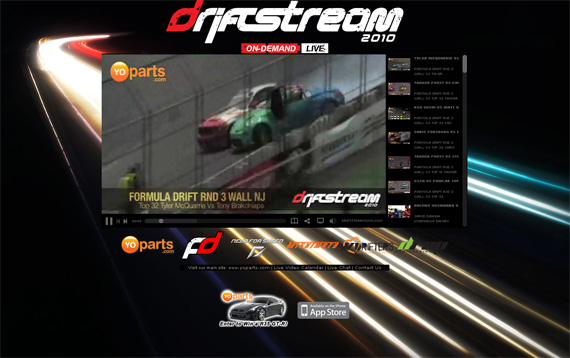 Long Beach, Calif. – June 25, 2010 – Formula DRIFT continued the new DriftStream with YoParts.com at Round 3: The Gauntlet registering over 200,000 unique viewers watching the event live for the second event in a row.
Formula DRIFT and YoParts.com partnered with Justin.tv to distribute the LiveStream of Round 3: The Gauntlet at Wall Stadium in New Jersey. Over 128 countries tuned in to watch the over 1,000,000 minutes of action streamed in a 24-hour period, the largest of any of the events to date. This event featured multiple camera angles including an exclusive "starting line" camera and enhanced scoring displays. The coverage also included footage live from the Drivers' meeting and exclusive coverage from the "Throttle Thursday" event.
"Round 3 was definitely our best broadcast yet! We were able to produce the best stream quality out of our first three events and made for an enjoyable viewing experience. Our DriftStream2010 chat audience were instrumental in helping us fine tune the stream each day," said Tom Masiero, co-founder of YoParts.com. "This event we had multiple camera angles for Round 3: The Gauntlet as well as a LIVE start line cam that caught some great close up action. This event would not have been possible without our sponsors Mishimoto, Need for Speed and Belle-1 Communications. We are looking forward to Round 3: Throwdown Monroe Wa, with even more great new features for the Formula Drift Fan base. We would also like to thank out media partners motoiq.com, speedhunters.com, pasmag.com, motormavens.com, drifting.com, streetimportonline.com, gtchannel.com, livesockets.com for hosting and promoting DriftStream2010."
The Drift Stream will continue at Round 4: Throwdown on July 9-10 in Monroe, WA when Formula DRIFT returns to Evergreen Speedway.