Formula DRIFT PRO 2 Championship Results at the Advance Auto Parts Road to the Championship Presented by Gumout; Jeff Jones Takes the Victory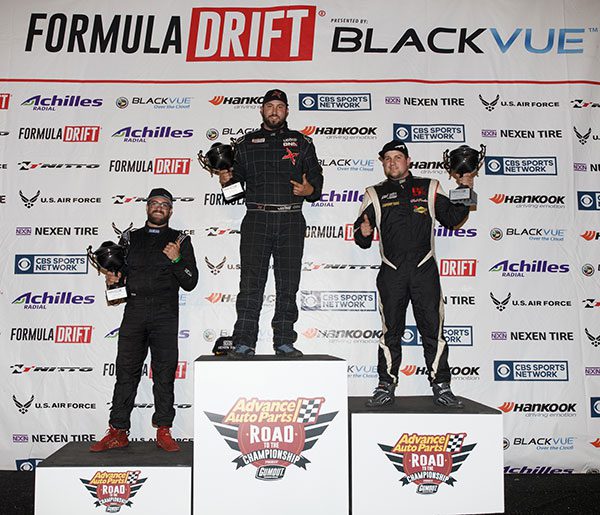 Long Beach, Calif. – May 7, 2016 – Formula DRIFT PRO 2 entered Road Atlanta for the first round of the PRO 2 championship. Jeff Jones in the DOC Nissan S14 takes the victory and the lead in the standings.
The inaugural event for PRO 2 at Road Atlanta kicked off the PRO 2 championship season. The course proved to be challenging and for many of the PRO 2 drivers as it was their first time drifting at Road Atlanta.
The top four qualifiers coincidentally also ended in the Top 4 of the competition. In the semi-finals, Ryan Litteral in the Ryan Litteral Racing Nissan S14 went head to head with Jeff Jones in one of the best battles of the evening. Litteral made contact with Jones, which ultimately gave Jones the win placing him in the Finals. Number one qualifier, Marc Landreville, in the Perry Performance Nissan S14 faced off against Dan Burkett in the RAD Dan Toyota Supra in unique circumstances due to a collision on course with fault given to Burkett. Landerville was given the win into the Finals, but with his car being unrepairable he was unable to continue in competition giving Jones the victory.
"I'm totally ecstatic to get first place," said Jeff Jones, winner of Round 1 of the PRO 2 championship. "It was amazing and I'd like to thank DOC for helping me out to get the car ready. It was a blast and I can't wait for the next round."
The 2016 Formula DRIFT Pro Championship will continue to Round 3: Uncharted Territory on June 3-4 at Orlando Speedworld. For more information visit,www.formulad.com and find Formula DRIFT on Instagram @formulad, Facebookwww.facebook.com/formuladrift, Twitter @FormulaD, and snapchat formula_drift. Tune into Formula DRIFT on CBS Sports and check your local listings for airtimes.