Formula DRIFT PRO 2 Evergreen Speedway Results;
James Evans is Victorious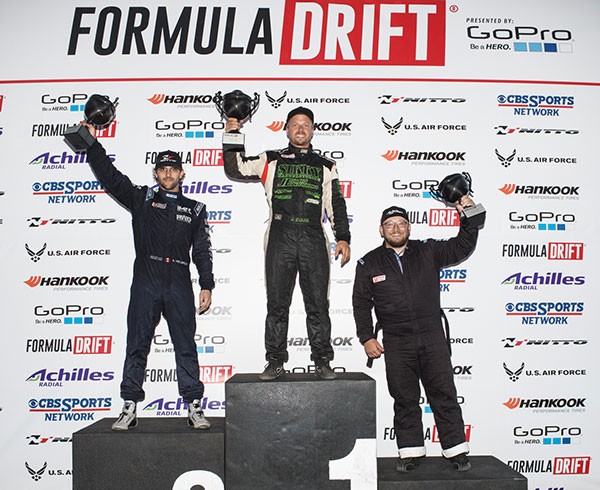 Long Beach, Calif. – July 24, 2015 – Formula DRIFT PRO 2 continued the season at Evergreen Speedway for the second of four rounds of competition. James Evans in the Sikky Racing Nissan 350Z takes the victory.
PRO 2 continued to the Pacific Northwest at Evergreen Speedway for the second round of the 2015 season. The on-track conditions were demanding with many vehicles seeing damage through the course of the event.
"The level of competition in PRO 2 has created an exciting element to the event weekend," says Jim Liaw, President of Formula DRIFT. "We are only half way through the PRO 2 season and it will be interesting to see how everything unfolds."
Evans faced off with PRO 2 points leader, Alex Heilbrunn in the IMR BMW 3-Series, in the finals. On the first battle, Heilbrunn went into the wall and was unable to continue giving Evans his second consecutive victory at Evergreen Speedway. Evans moves into second place in the PRO 2 standings, while Heilbrunn maintains his top position. Faruk Kugay in the Bay Shore Supply / Limitless Motorsports Nissan S14 lands in third place for the event and moves into fourth place in the standings.
"It wasn't the way I wanted to win out there, but I'll take the win," said James Evans, winner of Round 2 of 4 events of PRO 2 Championship. "It was a pretty tough battle to get to the finals, but it's been a good weekend for us."
The 2015 Formula DRIFT season will continue to Round 6: Showdown on August 21-22 at Texas Motor Speedway. For more information visit: www.formuladrift.com and find Formula DRIFT on Instagram, Facebook and Twitter. Tune into Formula DRIFT on CBS Sports and check your local listings for airtimes.
PRO 2 Round 2 of 4 – Evergreen Speedway Event Results

1. Evans, James
Sikky Racing Nissan 350Z
Winner
2. Heilbrunn, Alex
IMR BMW 3-Series
2nd Place
3. Kugay, Faruk
Bay Shore Supply / Limitless Motorsports Nissan S14
3rd Place
4. Hull, Taylor
N/A
4th Place
5. Gray, Andy
DriftEbisu.com / Achilles Tire Toyota Chaser
5th Place
6. Litteral, Ryan
N/A
6th Place
7. Goble, Brody
Indy Speed Shop V8 240SX
7th Place
8. Fournier, Ian
N/A
8th Place
9. Wicknick, Brandon
Chase Bays / RUN2JZ Nissan S13
9th Place
10. Moore, Cameron
N/A
10th Place

2015 Formula DRIFT PRO 2 Top 3 Standings After Two Events

1. Heilbrunn, Alex
IMR BMW 3-Series
194.00 Points
2. Evans, James
Sikky Racing Nissan 350Z
143.00 Points
3. Gray, Andy
DriftEbisu.com / Achilles Tire Toyota Chaser
137.00 Points