Formula DRIFT PRO 2 Round 2 Championship Results at Orlando Speed World;
Marc Landreville is Victorious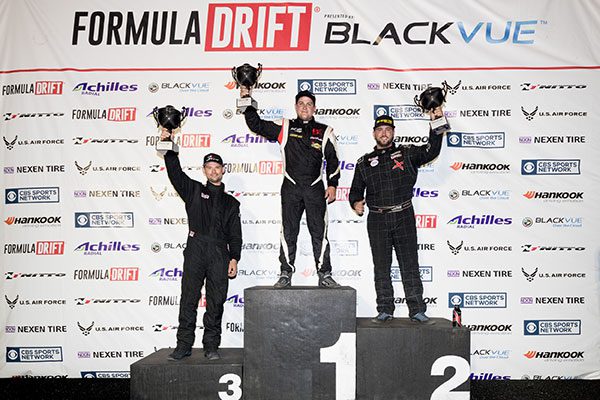 Long Beach, Calif. – June 3, 2016 – Formula DRIFT PRO 2 returned to the Orlando Speed World for the second round of the the PRO 2 championship. Marc Landreville in the Perry Performance Nissan S14 takes the victory and the lead in the standings.
Round 2 of the PRO 2 Championship delivered an entertaining evening of competition for the Florida fans. In the semi-finals, Matt Madrigali in his Nissan 240 went head to head with Jeff Jones in the Nexen Tire / DOC Racing Nissan 240. Jones outdrove his opponent to reach the finals. Number one qualifier, Marc Landreville, in the Perry Performance Nissan 240 faced off against Andrew Lewis in his Nissan 240. The battle was close, but Landreville was able to advance to the finals against Jones for the second consecutive event. This time Landreville was able to edge out Jones to take the top spot and move into the lead in PRO 2.
"I feel great to get first place so we are really happy," said Marc Landreville, winner of Round 2 of the PRO 2 Championship.
The 2016 Formula DRIFT PRO 2 Championship will continue to Round 3 on September 9-10. For more information visit,www.formulad.com and find Formula DRIFT on Instagram @formulad, Facebookwww.facebook.com/formuladrift, Twitter @FormulaD, and snapchat formula_drift. Tune into Formula DRIFT on CBS Sports and check your local listings for airtimes.