Formula DRIFT Round 4: The Gauntlet Results;
Fredric Aasbo Takes His First Career Pro Championship Victory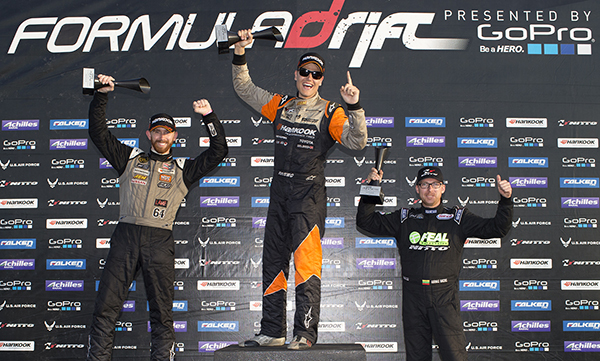 Long Beach, Calif. – June 21, 2014 – Formula DRIFT returned to Wall Speedway in New Jersey for Round 4: The Gauntlet. Fredric Aasbo in the Hankook Tire Scion Racing tC takes his first Formula DRIFT Pro Championship victory.
Round 4: The Gauntlet provided the sold out crowd to an exciting event experience complete with hard fought battles throughout the competition. Friday attendance saw exponential growth from the previous season making this the most attended Formula DRIFT event at this venue.
"9 years ago we invested in Wall Speedway, when we paved the infield and it continues to prove to have been a wise decision as we experienced the biggest Wall Speedway crowd ever this weekend," says Jim Liaw, President of Formula DRIFT. "This part of the country has become an integral and established stop for the championship."
For the fourth consecutive event, Chris Forsberg, the number one qualifier in the Hankook Tire Nissan 370Z, found the podium finishing in second place and retaining his championship point lead. The final battle between Hankook Tire teammates, Forsberg and Aasbo was a tightly fought battle, but one mistake by Forsberg helped Aasbo take his first career Formula DRIFT event victory, moving him into second place in the chase for the championship. The podium was rounded out by Aurimas "Odi" Bakchis in the Feal Suspension / Nitto Tire Nissan 240SX taking third place in the event, which is also his first professional career podium.
"This has been such a long time coming. This is my dream from ten years ago when I first started watching Formula DRIFT," said Fredric Aasbo, winner of Round 4: The Gauntlet. "I want to thank my team into turning the Scion tC into such a championship contender. We have had our trials and tribulations, but this is proof that I have the best team in the business."
The 2014 Formula DRIFT Championship season continues to Round 5: Throwdown at Evergreen Speedway on July 18-19. For more information visit: www.formuladrift.com and find Formula DRIFT on Instagram @formulad, Facebook www.facebook.com/formuladrift and Twitter @FormulaD.
Formula DRIFT Professional Championship Presented by GoPro 2014 Standings After Four Rounds
1. Forsberg, Chris Hankook Tire Nissan 370Z 353.00 Points
2. Aasbo, Fredric Hankook Tire Scion Racing tC 294.00 Points
3. Gittin Jr., Vaughn Monster Energy / Nitto Tire Ford Mustang RTR 288.00 Points
4. Moen, Kenneth Bridges Racing Nissan 240SX 242.00 Points
5. Bakchis, Aurimas Feal Suspension / Nitto Tire Nissan 240SX 189.50 Points
6. Pawlak, Justin Falken Tire Ford Mustang 173.50 Points
7. Wang, Forrest Get Nuts Lab / Hankook Tire / STR Racing Nissan S14 164.50 Points
8. McNamara, Darren Falken Tire Nissan S14 153.00 Points
9. Nishida, Robbie Achilles Radial / Bridges Racing Lexus SC300 151.50 Points
10. Grunewald, Conrad Megan Racing / Top 1 Oil / BRE Chevrolet Camaro 141.50 Points
11. McQuarrie, Tyler GoPro Mobil 1Chevrolet Camaro 134.50 Points
12. Kearney, Dean Oracle Lighting Dodge Viper SRT 134.00 Points
13. Essa, Michael Essa Autosport / Yokohama BMW M3 131.00 Points
14. Tuerck, Ryan Retaks Maxxis Tires Air Force PSI Scion FR-S 125.50 Points
15. Field, Matt CX Racing / Nitto Tire Nissan 240SX 119.50 Points
16. Ng, Charles Speedhunters / Achilles Radial Infiniti G37 118.00 Points
Round 4: The Gauntlet Event Results
1. Aasbo, Fredric Hankook Tire Scion Racing tC Winner
2. Forsberg, Chris Hankook Tire Nissan 370Z 2nd Place
3. Bakchis, Aurimas Feal Suspension / Nitto Tire Nissan 240SX 3rd Place
Manufacturers Championship Standings After Four Rounds
1. Ford 461.50 Points
2. Scion 451.00 Points
3. Nissan 442.00 Points
4. Chevy 276.00 Points
5. BMW 246.50 Points
Tire Championship Standings After Four Rounds
1. Hankook 647.00 Points
2. Nitto 525.50 Points
3. Achilles 453.00 Points
4. Falken 345.50 Points
5. Yokohama 167.50 Points