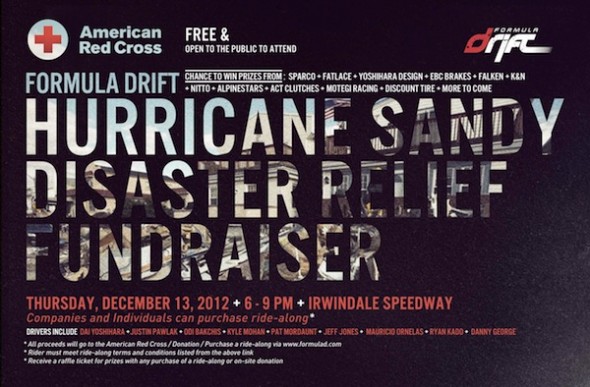 Formula DRIFT has announced a special charity event to benefit the American Red Cross's Hurricane Sandy relief efforts on December 13 at Irwindale Speedway. Professional drift ride-alongs from Formula DRIFT stars will be for sale to the public with proceeds to going to the relief fund.
"Hurricane Sandy affected a lot of people on the East Coast and we realize the help that is needed to restore the quality of life for many," said Jim Liaw, president and co-founder of Formula DRIFT. "The Series has many friends, fans and family living in the affected parts of the country and we invite everyone to come attend this special event to help support those in need."
Formula DRIFT ride-alongs from the Series top drivers such as Daijiro Yoshihara, Justin Pawlak, Odi Bakchis, Kyle Mohan, Jeff Jones, Danny George and more will be available to give once in a lifetime ride-alongs that will be for sale.
Raffle tickets will also be on-sale at the event for a chance to win great prizes from Formula DRIFT partners including:
ACT, EBC Brakes, Electric, Fatlace, K&N, K1 Speed, Keep Drifting Fun, Motegi, Racers Edge, Tony Angelo, Scion Racing and Vaughn Gittin Jr.
Those that purchase a ride-along will be entered into a raffle for prizes donated by the following companies:
Alpinestars, America's Tire, Falken Tire, K&N, K1 Speed, Fatlace, NItto Tire, Discount Tire Center and Racers Edge. 
The event is FREE and open for all fans to attend from 6 – 9 PM. Companies and Individuals can purchase ride-alongs via the Formula DRIFT website: www.formuladrift.com. Donations are also welcome with all proceeds to be donated to the American Red Cross.
CLICK HERE TO BUY A RIDE ALONG
Schedule of Events:
6:00pm: GATES OPEN TO PUBLIC
6:00 – 6:30pm: Driver Practice / Warm-Up Session
6:00 – 6:30pm: Ride-Along Check-In
6:30 – 7:30pm: Ride-Alongs
7:30 – 8:00pm: Raffle Drawing
8:00 – 9:00pm: Additional Ride-Alongs
9:00pm: GATES CLOSE TO PUBLIC