Formula DRIFT Round 6: Point of Impact Results;
Championship to be decided at Finals on October 8-9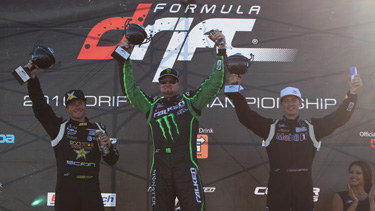 Long Beach, Calif. – September 11, 2010 – Formula DRIFT entered Sonoma, CA for Round 6: Point of Impact with Vaughn Gittin, Jr. taking his second victory of the season and increasing his points lead heading into the last round of the season on October 8-9 at the Toyota Speedway at Irwindale.
"It was another great event weekend to what has already been an intensely competitive season," said Jim Liaw, president and co-founder of Formula DRIFT. "With the championship on the line and only 1 event remaining in the season we are excited to see who will come out on top."
The competition was fierce and made for another exciting event with the drivers putting it all on the line before heading into the Finals. The Top 4 competition consisted of a battle between current champion Chris Forsberg in his NOS Energy Drink Nissan 350Z against 2-time Formula DRIFT champion Tanner Foust in his Rockstar Energy Scion TC for third place. Foust took the victory and maintained his third place status overall in the point standings. The final match-up pitted Vaughn Gittin Jr. in his Monster Energy / Falken Tire Ford Mustang against Ryan Tuerck in the Mobil 1 / Maxxis Pontiac Solstice. Gittin edged out Tuerck for his second victory of the season increasing his lead overall in the championship standings with only 1 event remaining in the season.
"Are you serious? Is this really happening," stated Vaughn Gittin, Jr., winner of Round 6: Point of Impact. "My team is amazing and I'm simply beside myself for what we did on the track!"
With only 1 event remaining in the 2010 Formula DRIFT season the action heats up and a champion will be crowned at Round 7: Title Fight. Tickets are now on-sale online starting at $26. All seating is reserved with both main event day and 2-day ticket packages available. A limited amount of VIP tickets are also available for purchase online. Tickets are expected to sell-out, and it is advised to purchase tickets online early to guarantee your spot to witness the crowning of a new Formula DRIFT champion. For more information and details visit the Formula DRIFT website at: www.formuladrift.com