Formula DRIFT Round 7: Title Fight Results;
Tanner Foust Takes the Event Victory while Vaughn Gittin, Jr. is Crowned 2010 Champion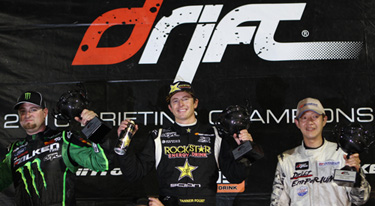 Long Beach, Calif. – October 10, 2010 – Formula DRIFT entered the final event of the 2010 season at the Toyota Speedway at Irwindale for Round 7: Title Fight. Tanner Foust in the Rockstar Energy Scion Racing TC takes the event victory and becomes the Tires.com Triple Crown winner, while Vaughn Gittin, Jr. in the Monster Energy / Falken Ford Mustang is crowned the 2010 Formula DRIFT champion.
The Toyota Speedway at Irwindale hosted the finale event to a sold out crowd. The action was non-stop all weekend featuring the Formula DRIFT ProAM championship, Fatlace One of One Showcase car show, and the Formula DRIFT championship. In addition this was the first drifting event to be filmed in 3D by DirecTV with an air-date to be announced. The event was also featured live online via the DriftStream to a global audience.
"It was another successful event to cap off an amazing season," said Jim Liaw, president and co-founder of Formula DRIFT. "To end the season at the Toyota Speedway at Irwindale to a sold out crowd in one of the largest event markets in North America showcases the strength of drifting fans."
The finale event did not fail to disappoint showcasing intense drifting action to determine a new champion. The battle for third place pitted Darren McNamara in the Falken Tire Saturn Sky against Michihiro Takatori in the BF Goodrich Nissan S15. McNamara pushed his car too hard hitting the wall taking himself out of the competition giving Takatori third place. The finale battle put 2-time Formula DRIFT champion Tanner Foust against Vaughn Gittin, Jr. After a close One More Time battle, Foust edged out Gittin to take the event victory and also secure his first Tires.com Triple Crown bonus prize.
"This was one of the most epic Formula DRIFT events of all time," said Tanner Foust, winner of Round 7: Title Fight. "This is the best track to drift and in front one of the biggest crowds. The drivers stepped it up from the Top 32 and on and gave everyone attending a great show. No one seemed to care about protecting their car and threw it all out there. I can finally close the door on my chase for the Triple Crown as I've been chasing it for years being so close multiple times and want to give it up to Tires.com for the opportunity."
With his advancement into the Top 16, Vaughn Gittin, Jr. secured the 2010 Formula DRIFT championship. Gittin found the podium 6 out of the 7 events through the season on his way to his first championship.
"This is just simply unbelievable," exclaimed Vaughn Gittin, Jr., 2010 Formula DRIFT Champion. "This has been a dream of mine for the past 7 years. It is a true accomplishment for my team and a testament to their commitment to the sport."
For more information and details visit the Formula DRIFT website at: www.formuladrift.com
Formula DRIFT Professional Championship 2010 Point Standings
1. Gittin, Vaughn Monster Energy / Falken Tire Ford Mustang 632 Points
2. Foust, Tanner Rockstar Energy Scion TC 568.50 Points
3. Tuerck, Ryan Mobil 1 / Maxxis Tire / Gardella Racing Pontiac Solstice 515 Points
4. Yoshihara, Daijiro Discount Tire / Falken Tire Nissan S13 514 Points
5. McNamara, Darren Falken Tire Saturn Sky 477.50 Points
6. Forsberg, Chris NOS Energy Drink / CFR Nissan 350Z 439 Points
7. Millen, Rhys RMR / Red Bull Hyundai Genesis Coupe 417 Points
8. McQuarrie, Tyler Falken Tire Nissan 350Z 396.50 Points
9. Takatori, Michihiro BF Goodrich / Exedy Nissan S13 374 Points
10. Hubinette, Samuel SHR-Dodge / BF Goodrich Dodge Challenger 357 Points
11. Pawlak, Justin Ford Racing / Falken Tire Ford Mustang 354.50 Points
12. Grunewald, Conrad Hankook Tire Chevy Camaro 295 Points
13. Aasbo, Fredric Japan Auto Toyota Supra 279.50 Points
14. Maeng, Joon Full Tilt Poker / Nitto Tire Mazda RX-8 271.25 Points
15. Gushi, Ken Scion Racing / RS*R Scion TC 252.50 Points
16. Powers, Matt Need for Speed / Nitto Tire Nissan 240 238 Points
Round 7: Title Fight Event Results
1. Foust, Tanner Rockstar Energy Scion TC 1st Place
2. Gittin, Vaughn Monster Energy / Falken Tire Ford Mustang 2nd Place
3. Takatori, Michihiro BF Goodrich / Exedy Nissan S13 3rd Place
Tires.com Triple Crown Final Standings
1. Foust, Tanner Rockstar Energy Scion TC 273 Points
2. Gittin, Vaughn Monster Energy / Falken Tire Ford Mustang 249 Points
3. McNamara, Darren Falken Tire Saturn Sky 228 Points