Formula DRIFT 2015 Round 1: Streets of Long Beach Results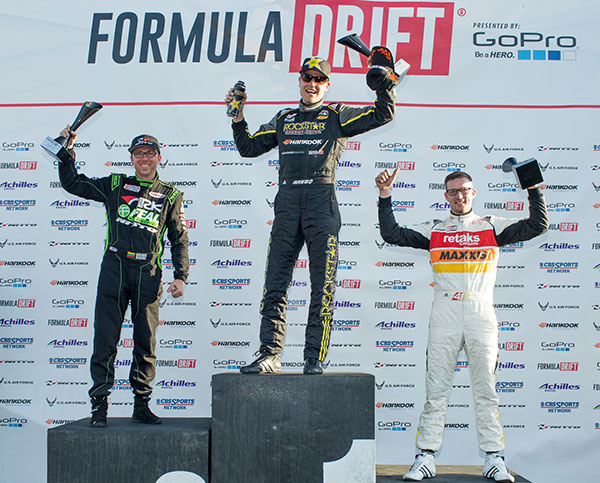 Long Beach, Calif. – April 12, 2015 – Formula DRIFT presented by GoPro kicked-off the first event of the 2015 World Championship season with Round 1: Streets of Long Beach to a sold out crowd. Fredric Aasbo in the Rockstar Energy Drink / Hankook Tire Scion tC takes the victory and the lead in the chase for the championship.
Round 1: Streets of Long Beach started off the twelfth season of Formula DRIFT to a sell out crowd. Over 20,000 fans experienced the action and excitement at the Streets of Long Beach Grand Prix Street Course through the weekend. The Dailymotion Livestream partnership saw over 300,000 unique viewers watch the Driftstream over the event weekend.
"The season kicked off in fantastic fashion," says Jim Liaw, President of Formula DRIFT. "Each year I'm amazed at the diversity and growth of the Series in more intense competition. We had seven different tire manufacturers competing, nine vehicle manufacturers, various corporate brands, and eight past champions including the return of the only back-to-back champion Tanner Foust in the competition."
After coming a few points short of his first title last season, Fredric Aasbo, kept the momentum that he gained through the second half of the 2014 season going and took the top spot on the podium after a few close battles. Ryan Tuerck in the Ryan Tuerck Racing / Retaks / Maxxis Tires Scion FR-S was unable to make the necessary mechanical change within the five minute allotment which forced him out of the competition to land in third place. The final battle saw Aasbo and Aurimas Bakchis in the Feal Suspension / ARK Performance / Nitto Tire Hyundai Genesis Coupe. Aasbo edged out Bakchis to take the event victory.
"This is exactly how we want to start the season," said Fredric Aasbo, winner of Round 1: Streets of Long Beach. "With a win here in Long Beach we are leading the World Championship and the Formula DRIFT Pro Championship. This being the hometown of Rockstar Energy, Scion, and Hankook it couldn't have been any better."
For more information visit: www.formuladrift.com and find Formula DRIFT on Instagram, Facebook and Twitter.
Round 1: Streets of Long Beach Event Results
1. Aasbo, Fredric Rockstar Energy Drink / Hankook Tire Scion tC Winner
2. Bakchis, Aurimas Feal Suspension / ARK Performance / Nitto Hyundai Genesis 2nd Place
3. Tuerck, Ryan Ryan Tuerck Racing / Retaks / Maxxis Tires Scion FR-S 3rd Place
4. Field, Matt CX Racing / Yokohama Tire Nissan S14 4th Place Place
5. Gittin, Vaughn Monster Energy / Nitto Tire Ford Mustang RTR 5th Place
6. McQuarrie, Tyler GoPro Mobil 1 Chevrolet Camaro 6th Place
7. Nishida, Robbie Achilles Radial Lexus SC300 7th Place
8. Mordaunt, Patrick DriftPaddock.com Nissan 350Z 8th Place
9. Forsberg, Chris Hankook Tire Nissan 370Z 9th Place
10. Pawlak, Justin Roush Performance Car Crafters Ford Mustang 10th Place
11. Yoshihara, Dai Falken Tire / Turn 14 Distribution Subaru BRZ 11th Place
12. Savage, Dan SIKKY Racing Mazda RX-8 12th Place
13. Stoneback, Geoff Achilles Radial / Parts Shop Max Nissan S14 13th Place
14. Ng, Charles Maxxis / Sparkplugs.com Infiniti G37 14th Place
15. DeNofa, Chelsea BC Racing / Chelsea DeNofa Motorsports BMW 3 Series 15th Place
16. Coffman, Matt Coffman Racing Nissan S13 16th Place
2015 Formula DRIFT Championship Presented by GoPro Top 3 Standings After One Event
1. Aasbo, Fredric Rockstar Energy Drink / Hankook Tire Scion tC 105.00 Points
2. Bakchis, Aurimas Feal Suspension / ARK Performance / Nitto Hyundai Genesis 83.00 Points
3. Tuerck, Ryan Ryan Tuerck Racing / Retaks / Maxxis Tires Scion FR-S 68.00 Points
Manufacturers Championship Standings After One Round
1. Scion 173.00 Points
2. Ford 88.00 Points
3. Chevrolet 69.00 Points
4. Nissan 57.00 Points
5. Toyota 51.00 Points
6. BMW 34.00 Points
7. Infiniti 34.00 Points
8. Dodge 18.00 Points
8. Mazda 18.00 Points
Tire Championship Standings After One Round
1. Hankook 143.00 Points
2. Nitto 135.00 Points
3. Maxxis 102.00 Points
4. Falken 101.00 Points
5. Yokohama 86.00 Points
5. Achilles 86.00 Points
7. GT Radial 52.00 Points