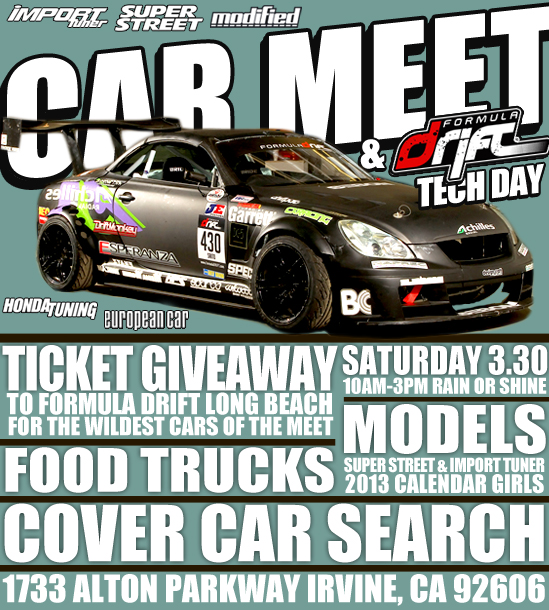 BRING YOUR CAR AND CREW!
Come meet your favorite Formula D drivers and teams along with some of your favorite Import Models for our second annual Car Meet x Formula D Tech Day.
Here's what you have to look forward to:
FORMULA D TEAM TECH INSPECTION – Watch your favorite teams and drivers debut their drift cars for the 2013 Formula DRIFT season.
GIANT CAR MEET – Plenty of parking for you and your entire crew
FORMULA D TICKET GIVEAWAY – A limited quantity of Formula D Long Beach General Admission tickets will be given out
IMPORT MODELS -2013 IT and SS Calendar girl Autograph session
FOOD TRUCKS – Orange County's hottest food trucks will be arriving so bring your appetite.
COVER CAR SEARCH – If your car at the meet has what we are looking for, you might find yourself on a magazine cover.
PLUS MUCH MUCH MORE
Arrive early, bring your camera, bring a pen, drag your girlfriend. See you there.
Brought to you by:
IMPORT TUNER, SUPER STREET, MODIFIED MAG, EUROPEAN CAR, and HONDA TUNING
Click here for more information
WHEN:
MARCH 30, 2013
10:00 AM – 3:00 P.M.
RAIN OR SHINE 
Address:
1733 Alton Parkway
Suite 100
Irvine, California