[youtube]http://www.youtube.com/watch?v=vHFFKhlegBc&sns=em[/youtube]
LONG BEACH, Calif. (Feb. 18, 2013) – Motegi Racing will be the title sponsor of the Super Drift Challenge, the first night race in the 39-year history of the world-famous Toyota Grand Prix of Long Beach, April 19-21, race officials announced today.
The Motegi Racing Super Drift Challenge, an invitational Formula DRIFT event, will take place at 7 p.m. on Friday and Saturday nights on the eastern end of the race circuit – turns nine, 10 and 11 – and is expected to feature 16 of the sport's top cars and drivers including 2012 Formula DRIFT champion Daigo Saito, 2011 champ Daijiro Yoshihara, plus Frederic Aasbo, Aurimas Bakchis, Michael Essa, Conrad Grunewald, Ken Gushi, Tyler McQuarrie, Robbie Nishida, Justin Pawlak, Matt Powers and others to be announced. Friday's action will include practice and qualifying runs, while Saturday will see the teams compete for a $25,000 prize pool. On Sunday, the Super Drift Challenge cars will drift the entire race circuit after the featured IZOD IndyCar Series race.
Grand Prix fans that purchase any admission ticket for Friday or Saturday racing activities will be able to see that day's Super Drift Challenge. Seating for the Super Drift Challenge will be in Grandstands 16, 18, 24, 25 and 26 on a first-come, first-serve basis beginning at 6:30 p.m.
"Motegi Racing is pleased to be part of the first night race at the Toyota Grand Prix of Long Beach in nearly four decades," said Marketing Director Rhett Sander. "The Super Drift Challenge is a great addition to the race weekend and we look forward to seeing a great smoke show under the lights."
"We are excited to have Motegi Racing expand on their relationship here at Long Beach to include the entitlement of our first-ever night racing event," said Jim Michaelian, president and CEO of the Grand Prix Association of Long Beach. "This is just another example of the added value that will be provided to all of our race fans over the weekend at no additional cost."
Motegi Racing has been a supporter of drifting in the United States since its first season and has backed top drivers including Fredric Aasbo, Matt Powers, and Tanner Foust. The Toyota Grand Prix of Long Beach is a special weekend for the aftermarket wheel company, which backs teams and drivers in many of the races on the schedule including drifting, ALMS and IndyCar.
In addition to the Super Drift Challenge, the 2013 Grand Prix will again be headlined on the track by the IZOD IndyCar Series®.  Also featured will be the Tequila Patrón American Le Mans Series, the fan-favorite Toyota Pro/Celebrity Race, Firestone Indy Lights and Pirelli World Challenge.
Off the track, the Grand Prix's menu of family entertainment includes free Friday and Saturday night Tecate Light concerts and the Lifestyle Expo with an expanded Family Fun Zone with racing simulators, kids' racing cars, computer games and action sports. Add to that driver autograph sessions, a Go-Kart track for adult racers, the Food Truck Experience, Sunday's Mothers Exotic Car Paddock, and it's a weekend packed full of activity.
Ticket prices for the three-day event range from $28 for a Friday General Admission ticket to $130 for a three-day ticket that includes Sat./Sun. reserved seating in grandstand upper levels.  Pre-paid parking packages are also available, along with handicapped seating, IndyCar Paddock passes, Super Photo tickets and a wide variety of Hospitality Club packages. Fans can select and pay for their 2013 Toyota Grand Prix of Long Beach seats, parking and paddock passes online at gplb.com. Ticket orders can also be placed by calling the toll-free ticket hotline, (888) 82-SPEED.
Fans can also follow the Toyota Grand Prix of Long Beach on Facebook at GrandPrixLB and on Twitter @ToyotaGPLB.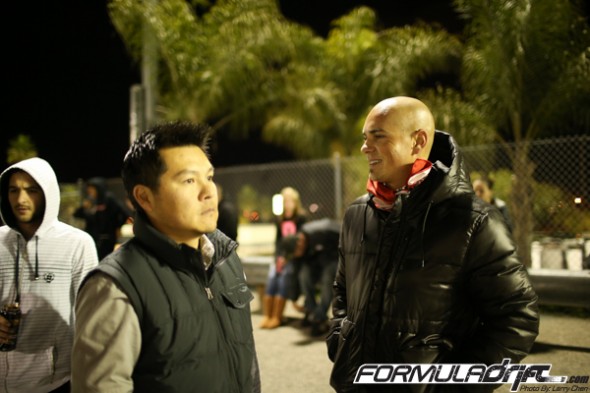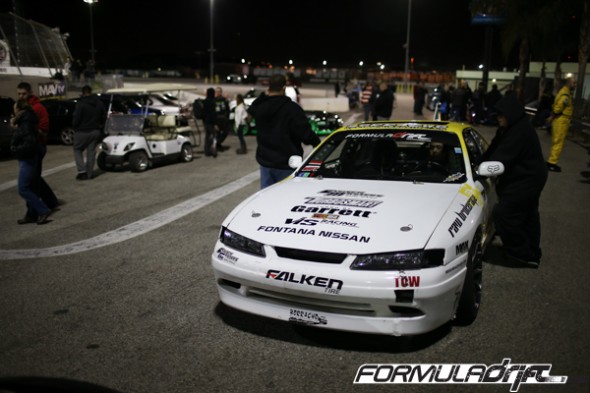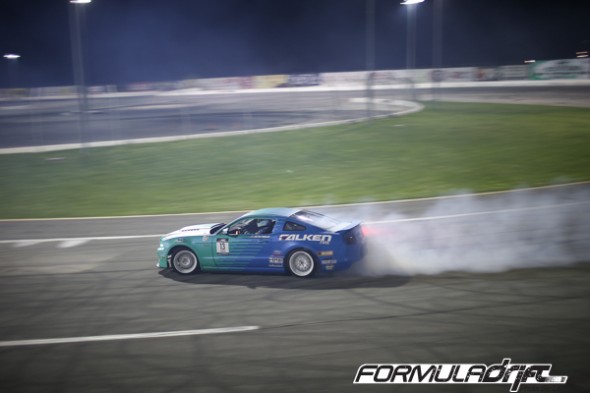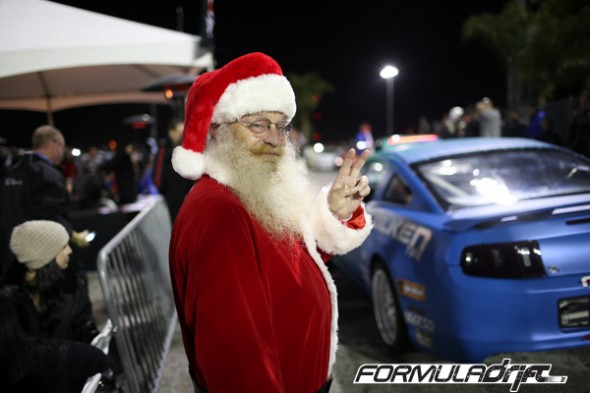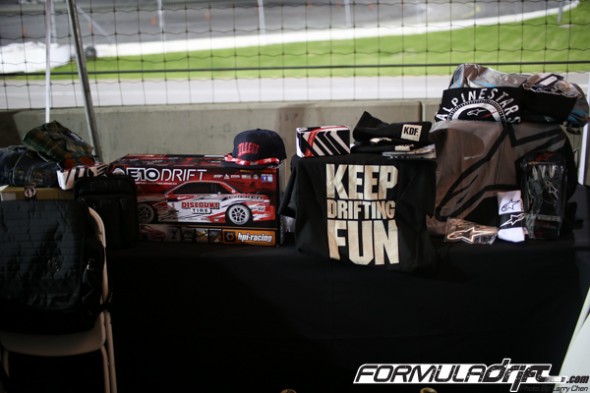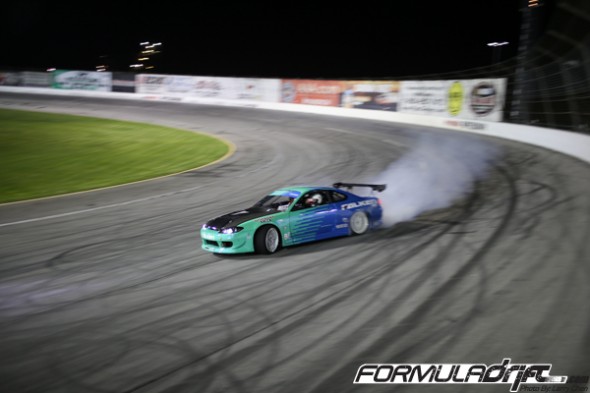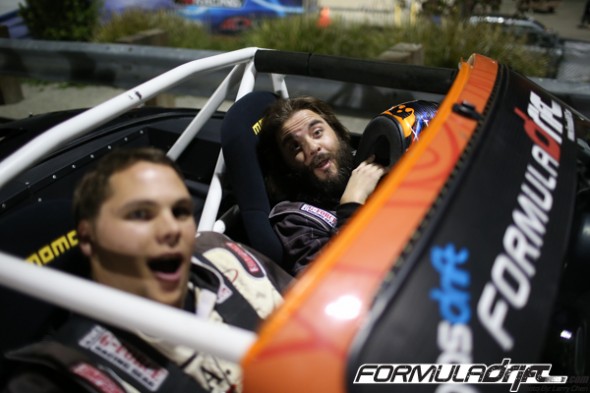 Last Thursday night (12/13/12), our special charity event to benefit the American Red Cross's Hurricane Sandy relief efforts at Irwindale Speedway helped raise over $7,000! Fans that purchased ride-along tickets were treated to the ride of their life by Mauricio Orneles Jr., Jeff Jones, Patrick Mordaunt, Dai Yoshihara, Justin Pawlak, Odi Bakchis, Danny George, Kyle Mohan and Ryan Kado. Many thanks to these drivers for coming out and partcipating.
Throughout the night, other current and former drivers such as Ken Gushi, Alex Pfeiffer and Tanner Foust were on hand to take photos with fans and show their support.
We'd like to thank the following supporters for their generous donations to the raffle that took place.
ACT, K&N, M7, Lucas Oil, Fatlace, Keep Drifting Fun, Falken, HPI, Discount Tire, Yoshihara Design, Motegi, Nitto Tire, Electric, Alpinestars, Tony Angelo, Vaughn Gittin Jr., LA Racing, Source Interlink, Modified Magazine, Import Tuner, Super Street, EBC Brakes, K1 Speed, Racers Edge, Scion, Scion Racing and Beach City Mustang Club.
We'd also like to show our appreciation to:
The Irwindale Events Center for donating the facility, Emergency Hookers, Toyota Grand Prix of Long Beach, ECO Boards, Everything Under The Sun and Belle-1 Racing Communications.
Thank you to all of our fans, drivers, teams and sponsors for helping making this event a great success!
Visit our All Access gallery for images from the event.